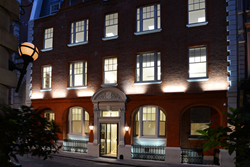 Once you take a branch out of a community, all those trust-based relationships, which are some of the most important mitigating factors when it comes to credit risk, are destroyed
(PRWEB) August 01, 2017
The beginning of the end for branch banking is here, and if we continue to ignore the warning signs we could be facing yet another financial crisis. Seyed Ali Sadr Hasheminejad, Founder of Pilatus Bank, argues that we are at the tip of another major consequential shift in banking. In less than 10 years, America has closed down 10,000 branches, which is a staggering rate of 3 branches per day. In 2017, the US may experience the highest number of branch closures in history. Sadr Hasheminejad predicts that, "unfortunately, this is just the beginning of a new wave taking shape; when in full force, it might feel like a tsunami for the established banks."
One could argue that the real value in branch banking lies in the thousands of relationships that are formed between the branch and the households within a community it serves, as opposed to the value of depositing a check or making a payment. Seyed Ali Sadr Hasheminejad of Pilatus Bank expands: "Once you take a branch out of a community, all those trust-based relationships, which are some of the most important mitigating factors when it comes to credit risk, are destroyed."
Similar trends are now appearing in the UK. Already, Barclays has announced the closure of some of their branches leaving towns like Rochford and Castle Cary with no banks, and other town councils have been warned of further closure plans. Unfortunately, Brexit will only rub salt in the wound, as many small businesses rely on branch banking as part of their community based relationships with the local branch bankers. Thankfully, the UK with its proactive regulators have created an innovative and prudent environment for challenger banks who can take on the old bricks-and-mortar based banking models.
The harsh reality is that the majority of European and American banks are struggling to keep their branches open today. By all measures, this is a daunting challenge, and one that traditional banking models will find difficult to escape. Seyed Ali Sadr Hasheminejad of Pilatus Bank believes the solution is embedded at the core of the private banking model which is built on interactive and trust-based relationships. He also warns against scalability as it will remain the ultimate challenge, something he believes only technology can solve.
On June 8th, 2017, Seyed Ali Sadr Hasheminejad, addressed the Private Banker International Award ceremony on the subject of The Uber Moment of Banking, and how its ingredients are at the core of the private banking model. He argued that it would be wrong and shortsighted to assume that online-banking or call-centers are the solutions to this historical challenge involving millions of people and their communities.
Pilatus Bank in London has addressed the scalability challenge with their disruptive technology. Whilst the big banks are struggling to find the right business model, Pilatus Bank is leading the way to create a new model in private banking, one that is accessible and scalable.
About Pilatus Bank
Pilatus Bank is a leading European bank that specialises in providing private and commercial banking services to high net-worth and affluent individuals. Pilatus Bank, located on 4 Old Park Lane, W1K 1QW in London, is mainly focused on offering its private banking services through its proprietary technology platform in order to make private banking more accessible and scalable. The Bank's simple and convenient solution has been a hallmark of transformation and quality of service. You can learn more by visiting the Pilatus Bank's website.