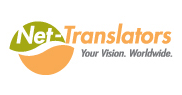 Translation management systems such as Net-Connect support and make the professional human translation services more efficient.
Milpitas, CA (PRWEB) July 27, 2017
Net-Translators, a leading provider of professional human translation and localization services, announced today that it has recently added Net-Connect to its suite of translation management systems. The cloud-based system connects to any content repository, whether it is website, software or marketing content. Net-Connect seamlessly integrates with most content management systems (CMS) and the translations are performed by professionally-trained and accredited linguists. For additional information, please visit: http://www.net-translators.com/net-connect.
Shy Avni, CEO and co-founder of Net-Translators said: "Translation management systems such as Net-Connect support and make the professional human translation services more efficient." He adds, "As thought leaders and innovators in our industry, all of us here at Net-Translators are dedicated to supporting our customers' needs with solutions and tools that enable them to be more efficient, save money and shorten the time-to-market."
Net-Connect offers three core benefits to the user:
1. Increased Process Efficiency
The system takes the pain away from sending emails back and forth, uploading files using FTP, dealing with out-of-control file structures and so much more. It ensures that the content for translation automatically makes its way to us and back to you in an organized and structured manner.
2. Shorten Time-to-Market
Managing the translation and localization process can be a daunting task. By incorporating Net-Connect into the process, customers are able to automate many of the steps and tasks that could slow down a translation project, thus getting to market faster.
3. Improved Workflow and Collaboration With Globally Dispersed Teams
By allowing Net-Connect to fully automate certain tasks, customers will have peace of mind that the entire translation and localization process is running as smoothly and efficiently as possible during all hours of the day. Team members from around the world will be able to communicate and collaborate more effectively. The system also reduces the risk of human errors and unnecessary project delays.
Net-Translators' suite of localization tools also include Net-Proxy, a web-based translation management system that automatically detects website changes and manages the entire translation process for companies, and Net-Cloud, a one-stop translation project management system that integrates with other systems such as CRM, ERP project management, content management, cloud-based online translation and accounting solutions.
Additional information may be obtained by contacting the office nearest you: http://www.net-translators.com/contact-us.
About Net-Translators (http://www.net-translators.com)
Net-Translators, a global leader specializing in professional human translations, services customers on 5 continents and in more than 60 languages. Our award-winning website translation process is managed by professional developers and project managers. Our translators and reviewers follow a stringent, comprehensive, multi-stage process to guarantee the highest quality and accuracy. Certified with multiple international standards, including: ISO 9001:2008, ISO 13485:2003 (for medical devices) and ISO 17100 (Requirements for Translation Services), Net-Translators is committed to your international reputation.