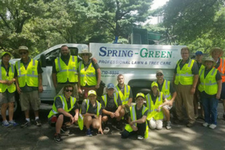 Plainfield, Ill. (PRWEB) July 28, 2017
On Monday, July 17, Spring-Green participated for the 21st consecutive year in the National Association of Landscape Professionals' (NALP) Renewal & Remembrance Day.
NALP, a national trade organization and advocacy group for the green industry, this year welcomed about 500 volunteers to pitch in on landscaping projects at Arlington National Cemetery, as well as the United States Soldiers' and Airmen's Home National Cemetery in Washington D.C.
The volunteers' work included lime and phosphorous application, aeration, tree care, irrigation, and a hardscaping project near the Tomb of the Unknown Soldier.
Two employees from Spring-Green's corporate office attended the 2017 event: Director of Education Harold Enger and Franchise Business Consultant Tom Warfel. Three Spring-Green franchise owners also attended: Chris Casselberry from Baton Rouge, La., who brought his wife, Sheila, and four teenage grandchildren; Scott Garcia from Raleigh, N.C., and his wife, Debbie; and Barry Robinson from Fredericksburg, Va., who was joined by his wife, Cindy, and two of his employees.
Warfel, a Marine veteran who did two tours in Iraq, has attended each of the four years he's been with Spring-Green — and organizes the annual trip on Spring-Green's behalf. He's worked to grow franchise owner attendance every year.
"It's always going to be a cool experience for me, but I'm even more excited when we can bring in new people," he said. "This kind of event can have a ripple effect — you never know who else someone might want to share it with down the line."
As a member of NALP's education committee, Enger attends Renewal & Remembrance annually. He was a team captain at this year's event, leading a team that spread lime at the cemetery.
"It's just inspirational to be there," Enger said. "I get a little choked up every year when the color guard kicks off the event — and when a funeral procession happens to pass by while we're working."
###
About Spring-Green Lawn Care
Founded in 1977, Spring-Green Lawn Care in Plainfield, Illinois has been delivering lawn and tree care services nationwide for 40 years. Its service is centered on the beautification of residential and commercial customers in middle-class and affluent neighborhoods and communities. Spring-Green is an attractive opportunity for entrepreneurs and existing green industry business owners who want to align themselves with a business model that has proven economic resilience, healthy profit margins, industry leading business and marketing intelligence, recurring revenue and retirement and succession planning. For more information, visit visit Spring-Green's franchise opportunity website, or read the Spring-Green franchise blog.