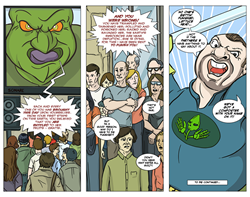 "In Partners 5 I share my 30-plus-years of knowledge and experience as a poison ivy horticulturist. It's a web comic for readers of all ages, where horticulture meets high adventure."
Philadelphia, Pennsylvania (PRWEB) August 01, 2017
Seasoned horticulturist, Umar Mycka has been engaged in hand-to-vine combat with poison ivy for decades and his graphic novel, The Partners 5, account his fictionalized adventures against this common backyard menace. Combining his passion for education and horticulture, Volume 1 of his graphic novel, (found on tapastic.com) sees five intrepid Partners battle the mutated "Hostile Heartroot" bent on global domination and his band of mantises.
The story is not only chock full of action and adventure to entertain readers, but it also has a much more serious message to share. Climate change is here, and with it, poison ivy has begun to dominate landscapes, backyards and playgrounds across North America. From humble beginnings in the woods and forgotten back lots of North America, Poison Ivy is now the poster child for climate change - an unforeseen and extremely negative force that is growing rapidly, thanks to the increased CO2 in the air. The plant's toxins have even increased in strength, resulting in sleepless nights, heavy-duty skin rashes and in extreme cases, ER visits for anyone who has had the misfortune of coming into contact with it.
How does CO2 affect the biology of plant life?
Plants, unlike humans, do not breath oxygen, they synthesize CO2. As we continue to pump higher levels and concentrations of CO2 into our environment, we unwittingly change the development and therefore, the biology of Poison Ivy (Toxicodendron radicans). It has resulted in vines with larger leaves, better resilience, and higher concentrations of toxic urushiol oil, the compound that causes reactions to the skin upon contact.
This prolific plant can grow practically anywhere making it deceptively difficult to spot and even harder to eradicate. Forget everything you thought you knew about identifying the plant either, as its appearance can differ by location. The stems can climb trees, grow as a free standing shrub, line walkways and pathways, the leaflets can be red, or green, with leaflet edges serrated or smooth.
"Most people know poison ivy as a plant usually found on the woodland edge, it gives you a terrible skin rash on contact, but that's only part of the story. I've studied plants that were over 800 years old, that could burn your skin...like acid."
Active on the lecture circuit, hosting presentations & speaking engagements at horticultural events across North America, Mycka has a passion to educate the public on the unknown harms of Poison Ivy.
"In The Partners 5, I share my 30-plus-years of knowledge and experience as a poison ivy horticulturist. It's a webcomic for readers of all ages, where horticulture meets high adventure."
Mycka & his team have actively invested in multiple poison ivy removal projects from neighborhood vegetable gardens to educational efforts, helping communities stay safe from this dangerous and invasive species. Ultimately, Mycka's goal is to help educate the public to better avoid and prevent the sometimes disastrous consequences of contact with Poison Ivy.
"The Partners 5 is a tremendous aid for teachers. The comic strip is exciting, colourful, and chock-full of information that will change the way teachers and students view poison ivy and its relationship to their environment."
The comic isn't just for kids though, but anyone who has ever suffered the terrible rash or other symptoms associated with Poison Ivy, to share information, and stem the tide of this resilient plant that's more than just a nuisance! To learn more about this invasive species, follow The Partners 5 on social media or read the complete Graphic Novel at https://tapas.io/thepartners5. You can also visit umarmycka.com to contact Mycka directly for additional educational tools and information. He is also available for media interviews and speaking engagements.
Umar Mycka
Philadelphia, PA
19131 USA.
Phone: 215 879 5969
Email: info(at)idontwantpoisonivy(dot)com
SOURCE: https://www.ars.usda.gov/northeast-area/beltsville-md/beltsville-agricultural-research-center/adaptive-cropping-systems-laboratory/docs/dr-lewis-ziska-cv/
Mohan, J.E., Ziska, et al. 2006. Biomass and toxicity responses of poison ivy (Toxicodendron radicans) to elevated atmospheric CO2.Proceedings of the National Academy of Sciences. 103: 9086-9089