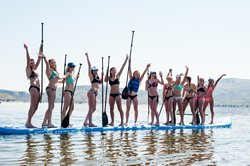 Gunnison, CO (PRWEB) July 27, 2017
Tito's Blue Mesa Beach Bash will kick off at 8:00 a.m., Saturday, August 26, 11.5 miles west of Gunnison, Colorado. The Old Stevens Creek Day Use Area offers ample beach for the festival area. Boards from top manufacturers will be available for demo at the event. There will be SUP racing, SUP Yoga, lessons for all ability levels, and SUP games like Tug-o-War, and jousting. Live music from MILLK and CJ Conway, food from Hogwood BBQ, beer from Irwin Brewing Company, and cocktails from Tito's Handmade Vodka are all included in the ticket price.
The festival will take place within the Curecanti National Recreation Area which encompasses three reservoirs on the Gunnison River drainage; Blue Mesa, Morrow Point, and Crystal Reservoirs. The Blue Mesa Reservoir is the largest in this system, as well as the state, and it is home to the majority of the park's visitor facilities. Camping spots dot the shores of Blue Mesa and can be booked at the National Park Service's website.
Stand-Up Paddleboarding is the fastest growing watersport. What started out as a means of navigating during low swells in Hawaii, made its way to the coastal US mainland in the early 2000's. Since then, the sport has grown in popularity in the land locked states. SUP's are being used in lakes and waterways across the country. The sport is versatile and fun for all ability levels, and since the vessel can't swamp and users aren't locked in like a kayak or canoe they provide more fun and safety on the water. They can be used for anything from a lake house family toy to a Class IV whitewater craft. The outdoor lifestyle and many bodies of water in the Gunnison Valley allow SUP to thrive here. Tito's Blue Mesa Beach Bash is a celebration of SUP's Colorado home.