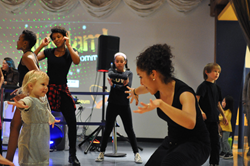 Boston, MA (PRWEB) July 27, 2017
Boston Children's Museum and Urbanity Dance, a Boston based contemporary dance company, are pleased to announce a new partnership that will bring Urbanity's inspiring cutting-edge artistry and creative vision to the Museum, empowering new generations of creative individuals. As part of this collaboration, Urbanity Dance will become the Official Dance School at Boston Children's Museum, providing Museum visitors and members with dance-based learning experiences.
The partnership will result in programming at the Museum designed to ignite the creative potential of children using movement, dance, and music. Through workshops, performances, and special events, the Museum and Urbanity will:

Introduce families to exciting dance performance and education opportunities at the Museum and beyond.
Connect dance professionals, educators, and students with Museum visitors to foster a creative community that is encouraging, inclusive, and accessible.
Support the physical, intellectual, and social emotional development of young children through dance and movement.
Urbanity's commitment to originality in movement and dance, bringing together modern, hip-hop, jazz, improvisation, and ballet dance techniques, is the foundation of its dance school and its professional company. Since its founding in 2008, it has been stimulating audiences with its artistry and unpredictability, inspiring its students, and empowering underserved populations through its extensive work in the community.
"We are delighted to expand our collaboration with a creative organization like Urbanity, and give our visitors and members more opportunities to engage in the power of movement and dance," said Carole Charnow, President and CEO of the Museum. "Dance is a vehicle for connecting with one's artistic and creative potential, and Boston Children's Museum is all about providing these kinds of experiences to our visitors."
The partnership will extend Urbanity Dance's current programming at the Museum, and will include dance workshops inspired by Museum exhibitions, monthly dance jams, and pop-up classes of original Urbanity Dance curriculum focused on social, emotional, and mind-body development. The partnership will also pursue a new Youth Dance Festival, showcasing world dance styles and inviting all communities in Boston together to celebrate and learn.
"This unique partnership offers a powerful example of how Boston nonprofits can join forces to create something stronger for our community than either of us could do alone," said Betsi Graves, Founder and Director of Urbanity Dance. "It is evident that the values of our respective organizations, empowering and inspiring children to be curious, kind, creative, healthy, and courageous, allow us to focus on developing programming to achieve this vision together."
For additional information, visit http://www.BostonChildrensMuseum.org
About Urbanity Dance
Urbanity Dance is a nonprofit contemporary dance company that exists to inspire, engage, and empower individuals and communities through the art of movement and dance. Urbanity Dance serves over 400 students annually at its home base in Boston's South End and is the largest presence of dance in Boston Public Schools. Through its wide range of community partnerships and award winning contemporary dance Company, Urbanity presents imaginative performances and programming that celebrate Boston's diverse voices.
About Boston Children's Museum
Boston Children's Museum engages children and families in joyful discovery experiences that instill an appreciation of our world, develop foundational skills, and spark a lifelong love of learning. More information about Boston Children's Museum can be found at http://www.BostonChildrensMuseum.org. Become a fan of the Museum on Facebook and follow us on Twitter.
###