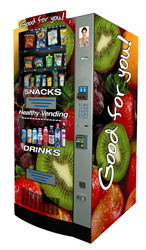 The demand is growing for food that is organic, sustainable, fair trade, GMO-free, humane and healthy.
Salt Lake City, Utah (PRWEB) July 27, 2017
Healthy eating isn't always easy. Currently, more than 80 percent of Americans fail to eat the recommended amounts of fruits and vegetables. At the same time, many Americans overeat refined grains and sugar. This trend may help explain why the obesity rate seems stuck. The most recent estimate is that 36 percent of adults in the U.S. are obese.
As a culture, we seem to have food on the brain more. "We eat two more large snacks a day [compared to] 25 years ago," says Barry Popkin, a professor of nutrition at the University of North Carolina.
Making changes to eating patterns can be overwhelming. That's why it's important to emphasize that every food choice is an opportunity to move toward a healthy eating pattern. Small shifts in food choices—over the course of a week, a day, or even a meal—can make a big difference. Despite the high number of Americans that have less than perfect eating habits, Americans seem to be aware of the problem and are making an effort to course correct their eating and snacking habits.
The demand is growing for food that is organic, sustainable, fair trade, GMO-free, humane and healthy. In cities around the country, we're seeing more and more farmer's markets (a nearly three-fold increase in the last decade), and more young people getting back into farming. Grocery stores (even big national chains) are displaying local, natural and organic foods with pride. The movement for healthy food is growing fast and quickly becoming a political force.
A recent study, reported in the Journal of the American Medical Association, examined diet-related causes of death in the United States and found that in order to address the main dietary components influencing cardio-metabolic death in the United States, a few simple rules could be applied:
1. Eat less highly processed foods, and especially, less processed meat
2. Eat less fast food
3. Drink less soda
4. Eat more nuts and seeds
5. Eat more vegetables
6. Eat more fruits
7. Eat fish and seafood in place of other meats
As the study indicates, one of the most important things you can do for your body is make healthy food choices. Healthy eating habits are especially important when it comes to snacking.
Healthy snacking doesn't have to mean tasteless, bland or boring, especially when you're at work or on the go—as long as you know what healthy vending choices to choose.
HealthyYOU is dedicated to raising awareness about heart disease and providing healthier food, drink and snack choices on-the-go and at work. With more than 2,500 healthy vending products to choose from, HealthyYOU Vending is committed to making healthy snacks, drinks and fresh foods available to everyone.
For more information about HealthyYOU Vending, its entrepreneurial philosophy and the HealthyYOU difference, go to http://www.healthyyouvending.com/.
-END-
HealthyYOU Vending is the world leader in the healthy vending industry. Founded by seasoned vending veterans Mike Burnett and Jeff Marsh, their corporate offices are located in Kaysville, Utah. All company vending machines are privately manufactured in the United States at a state-of-the-art facility. Owner/Operator opportunities for serious-minded entrepreneurs are currently available.