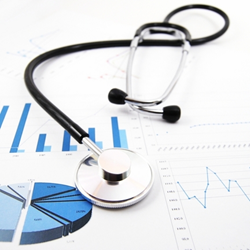 Cambridge, MA (PRWEB) July 27, 2017
As policymakers and system stakeholders in many states debate rising medical costs, the Workers Compensation Research Institute (WCRI) released a new study today that helps monitor changes in prices paid for medical professional services as well as the impact of fee schedule and network changes on price trends.
The study, WCRI Medical Price Index for Workers' Compensation, Ninth Edition (MPI-WC), tracks medical prices paid in 31 states over a nine-year span from 2008 to 2016 for professional services billed by physicians, physical therapists, and chiropractors. The medical services fall into eight groups: evaluation and management, physical medicine, surgery, major radiology, minor radiology, neurological testing, pain management injections, and emergency care.
"If you are a policymaker or other stakeholder and want to understand the growth of medical prices in workers' compensation, you would benefit from this study," said Ramona Tanabe, WCRI's executive vice president and counsel. "If you are in one of the many states that implemented fee schedule changes recently or are considering such changes in the future, this study shows how certain policy initiatives impact medical prices."
New in this edition is a discussion of the impact of recent fee schedule changes on prices in North Carolina and Colorado between 2015 and 2016. Below are key findings from these two states. Other states with major fee schedule changes from earlier years are also discussed in this study.

North Carolina implemented new fee schedule rates for professional services in July 2015. This study found that the overall prices paid for professional services in the state increased 18 percent from 2014 to 2016, while prices in most other fee schedule states changed little during this period. Compared with the other 30 states included in this study, the overall prices paid in North Carolina moved from being among the lowest of the study states in 2014 to being fairly typical of the 31 states in 2016, after the fee schedule change.
Colorado revised its fee schedule for professional services to incorporate the use of relative values from Medicare's resource-based relative value scale (RBRVS) effective January 2016. This study found that the policy change resulted in large price increases for some types of services and decreases for others in Colorado from 2015 to 2016, while the overall prices remained stable.
This study also found that most states with no fee schedules experienced faster growth in prices paid for professional services compared with states with fee schedules—the median growth rate among these non-fee schedule states was 24 percent from 2008 to 2016 compared with the median growth rate of 7 percent among the fee schedule states. A recent trend in 2015 and 2016 reported by this study is worth noting—price growth in a number of non-fee schedule states slowed down, which may be related to increases in network participation.
The 31 states included in the MPI-WC, which represent 85 percent of the workers' compensation benefits paid in the United States, are Arizona, Arkansas, California, Colorado, Connecticut, Florida, Georgia, Illinois, Indiana, Iowa, Kansas, Kentucky, Louisiana, Maryland, Massachusetts, Michigan, Minnesota, Mississippi, Missouri, Nebraska, New Jersey, New York, North Carolina, Oklahoma, Oregon, Pennsylvania, South Carolina, Tennessee, Texas, Virginia, and Wisconsin.
The authors of this study are Dr. Rebecca Yang and Dr. Olesya Fomenko. Click on the following link to download a FREE copy of this report: https://www.wcrinet.org/reports/wcri-medical-price-index-for-workers-compensation-ninth-edition-mpi-wc.
The Cambridge-based WCRI is recognized as a leader in providing high-quality, objective information about public policy issues involving workers' compensation systems.
ABOUT WCRI:
The Workers Compensation Research Institute (WCRI) is an independent, not-for-profit research organization based in Cambridge, MA. Organized in late 1983, the Institute does not take positions on the issues it researches; rather, it provides information obtained through studies and data collection efforts, which conform to recognized scientific methods. Objectivity is further ensured through rigorous, unbiased peer review procedures. WCRI's diverse membership includes employers; insurers; governmental entities; managed care companies; health care providers; insurance regulators; state labor organizations; and state administrative agencies in the U.S., Canada, Australia, and New Zealand.