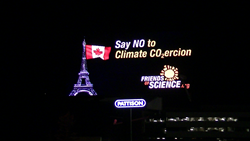 The "No Pipeline" mentality of anti-oil activists and Canada's drastic GHG reduction targets will shutter virtually all economical drivers of the Canadian economy
Calgary, Alberta, Canada (PRWEB) August 01, 2017
As reported in the National Observer of July 21, 2017, a coalition of aboriginal and environmental activists claiming climate catastrophe, are harassing the banks financing the approved Trans Mountain pipeline expansion in an attempt to block construction. Friends of Science says that this totalitarian approach of "No Pipelines" is unrealistic and destructive to the Canadian economy and democracy.
In past public statements, BC's Premier Horgan has vowed to stop Kinder Morgan's Trans Mountain pipeline expansion, though this would violate Canadian Rule of Law. In the National Post of July 25, 2017, BC's Green Party leader, former climate science modeller, Andrew Weaver is quoted as saying: "B.C.'s future does not lie in chasing yesterday's fossil fuel economy."
Friends of Science says this is misleading as the International Energy Agency reports that today's economies run almost entirely on fossil fuels and that is not expected to change any time soon: "In 2014, the shares of primary energy supply by energy source were: oil, 31.3%; coal, 28.8%; natural gas, 21.0 %; biofuels and waste, 10.3%; nuclear, 4.8%; hydro, 2.4%; and "other", including all renewables energy sources, 1.4%."
Commentator Marian L. Tupy calls out the "Totalitarianism of Environmentalists" in his July 19th, 2017 blog post.
Canada appears to be moving toward being less competitive all the time with demands for additional environmental and regulatory reviews, as discussed in this July 20, 2017 post by Ottawa energy policy consultant Robert Lyman.
Additional demands for aboriginal consultation in resource development based on 'traditional knowledge' is a concept disputed by Lyman in this post of July 26, 2017.
The recently released 2-part study of "The Changing World of Energy and the Geopolitical Challenges" by EU energy expert Samuele Furfari, Ph.D., professor at the Free University of Brussels, shows that fossil fuel use and exports proliferate world-wide.
As expressed in his May 9th, 2017 presentation to Friends of Science Society, Robert Lyman, explained that Canada cannot survive the present climate change policies. The "No Pipeline" mentality of anti-oil activists and Canada's drastic GHG reduction targets will shutter virtually all economical drivers of the Canadian economy. Furthermore, Lyman points out that such one-sided demands are not democratic. Presentation posted on YouTube: youtu.be/acjGXJvgTBs
Friends of Science Society dispute the anti-oil activist climate catastrophe claims, saying that human influence on climate change is nominal compared to natural influences, such as the interactions of solar cycles driving ocean oscillations, among other factors.
About
Friends of Science is celebrating 15 years of reviewing a broad spectrum of literature on climate change and have concluded the sun is the main driver of climate change, not carbon dioxide (CO2).
Friends of Science Society
P.O. Box 23167, Mission P.O.
Calgary, Alberta
Canada T2S 3B1
Toll-free Telephone: 1-888-789-9597
Web: friendsofscience.org
E-mail: contact(at)friendsofscience(dot)org
Web: climatechange101.ca