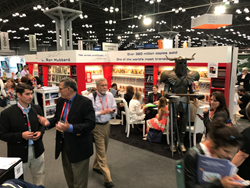 To meet the growing demand for Mr. Hubbard's fiction works—and to make available the many stories he wrote which have yet to be broadly released
Hollywood, CA (PRWEB) July 27, 2017
Galaxy Press which began operation as the publisher of the fiction works of L. Ron Hubbard in July 2002 at its current Hollywood location of 7051 Hollywood Blvd, just a block west of the famed Chinese Theatre, is celebrating its 15th anniversary as a publisher announced John Goodwin, the company's president.
The celebration will take place on Saturday, July 29, and will include a special theatrical presentation of L. Ron Hubbard's 1936 story "The Death Flyer," a blending of mystery and the supernatural. Doors open at 7:00 PM and the performance begins at 7:30 PM.
The formation of Galaxy Press was spurred by a two-fold objective Goodwin stated: "To meet the growing demand for Mr. Hubbard's fiction works—and to make available the many stories he wrote which have yet to be broadly released." Now, with nearly 50 million copies of his fiction works in 32 languages across 80 countries, this mission remains as vital today as it was fifteen years ago.
Galaxy Press most recently saw to the successful republication of the international bestselling novel Battlefield Earth, which hit #1 in the US when released last summer. The companion unabridged audiobook, with a cast of 67 professional actors and incorporating over 150,000 sound effects, likewise was #1 in the US when released and was just recently awarded the coveted Audie Award by the Audio Publishers Association.
The 80-volume Stories from the Golden Age line, containing 153 stories written by Mr. Hubbard in a wide spectrum of genres, including adventure, western, mystery, detective, fantasy, science fiction and even some romance was published as both a trade paperback as well as unabridged, multicast audiobook.
The internationally acclaimed annual L. Ron Hubbard Presents Writers of the Future is also published by Galaxy Press, with volume 33 recently released and now a national bestseller.
Immediate future products for Galaxy Press include the paperback edition of Battlefield Earth releasing this fall, followed by the 2018 republication of the Mission Earth series, beginning with The Invaders Plan.
For more information on Galaxy Press, go to http://www.galaxypress.com
For more information on Writers of the Future, go to http://www.writersofthefuture.com