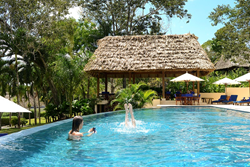 a Belize winter vacation just became a more viable option
San Ignacio, Belize (PRWEB) July 31, 2017
WestJet airlines' recent announcement of a new weekly non-stop flight to Belize this winter compliments The Lodge at Chaa Creek's new menu of all-inclusive Belize winter vacation packages to make a 2017 Belize vacation easier and more affordable for many people, the popular Belizean jungle lodge's reservations administrator said.
Elsie Pacheco said by taking advantage of expanded and more competitive air services to Belize and booking an all-inclusive Belize vacation package, visitors can enjoy a tropical vacation this year for a fraction of what it previously cost.
And with recent upgrades to domestic air travel in Belize, travellers can save time as well as money, she added.
"Being able to have breakfast with snow falling outside in Canada, and then enjoying a swim before dinner in Belize that evening is something we never imagined possible even just a few years ago.
"But now, with the increase in international service, the recent upgrade to Belize's domestic terminal, and with Tropic Air flying to the Maya Flats airstrip almost at Chaa Creek's front door, people will barely have time to thaw out before they're enjoying a drink or meal around the pool," Ms Pacheco said.
Chaa Creek's all-inclusive Belize vacation packages for 2017 include the "Belize Family Vacation", "Belize Inland Expedition" "Belize Adventure", "Rainforest to Reef", "Belize Culture Winter Solstice", "Belize Honeymoon Adventure" "Maya Temple and Jungle Adventure" and more, as well as spa and wellness, destination weddings and new luxury packages featuring an exclusive rainforest villa complete with private Jacuzzis, plunge pools and a personal butler, Ms Pacheco explained.
"Whether you're travelling with your family, or as a couple, group of friends or an individual looking for a winter adventure in the tropics, a Belize vacation just became a more viable option.
"If you weigh up the cost of staying home and compare it to everything that's offered in an all-inclusive Belize holiday package, it becomes surprisingly affordable to enjoy some tropical luxury this winter. More and more people are choosing to spend traditional holidays like Thanksgiving, Christmas and New Years here as a way to turn them into truly memorable events," she said.
"And life celebrations such as birthdays, honeymoons, anniversaries and even graduations can become something very special without a huge investment in time or money," she added.
Ms Pacheco said WestJet's new Calgary to Belize City service joins expanded service from other carriers operating out of a number of North American cities. And, since last year, Canadians are finding travel to Belize more convenient.
In October 2016, when WestJet began a twice weekly service from Toronto's Pearson International Airport to Philip Goldson International in Belize City, the airline's executive vice-president Bob Cummings remarked, "Leaving Canada and hitting the beaches in Belize by mid-day is something that Canadian traveller are not used to and we have absolutely changed the game with our twice-weekly service from Toronto."
The new Calgary-to-Belize nonstop flights continue what Ms Pacheco called "increased momentum towards Belize," fuelled, she added, by positive word of mouth.
"Belize's rapid rise as a popular tourism destination is unique in that it was fuelled more by word of mouth than by clever or expensive marketing. Our tourism industry only really began in 1981 after Belize's independence, and without name recognition or a big budget we depended on word of mouth.
"Fortunately social media and consumer reviewed travel sites like TripAdvisor were also taking off, so the good word spread quickly. You only need to look at reviews and comments about Chaa Creek to see how what an impact that has had."
Ms Pacheco said demand has seen Chaa Creek grow to become one of the region's premier eco-resorts, offering a wide range of accommodations, amenities including a restaurant and lounge featuring farm-to-table dining, the internationally recognised Hilltop Spa, infinity pool, and onsite attractions such as the Belize Natural History Museum, Butterfly Farm, Maya organic farm and medicinal plant trail, and more.
The 400-acre private nature reserve with miles of maintained trails supports horseback riding, Maya temple exploration, guided nature hikes, birding, canoeing and more. And with Chaa Creek's Caribbean partner resorts, travellers can combine a rainforest adventure with a Caribbean beach holiday in one vacation for one set price.
Such a comprehensive infrastructure, along with a nationwide network of colleagues and partner resorts, has given Chaa Creek the travel industry reputation as Belize's "Destination Within a Destination" and allows the eco-resort to offer all-inclusive Belize vacation packages that are surprisingly affordable, Ms Pacheco said.
"Another reason for our popularity is our blend of casual luxury and affordability that has visitors leaving happy and very satisfied. From the moment we pick guests up at the international airport of Maya Flats until we drop them back off, they are completely looked after. And with an all-inclusive vacation package everything is covered for one set price, meaning there are no unwelcome credit card surprises when they return home.
"Add in a more competitive air travel environment that reduces costs and travel times, and it becomes very attractive for people to escape the cold weather and enjoy a tropical vacation this winter.
Even with enhanced air service, travellers should consider booking early for a Belize Winter vacation, Ms Pacheco advised.
"Belize avoids mass tourism and is still small, uncrowded and takes the time to be friendly, so it's a good idea to book in advance. It lets us help you plan the perfect vacation, and lets you relax and look forward to something special," Ms Pacheco said.
The Lodge at Chaa Creek is a multi-award winning eco resort set within a 400-acre private nature reserve along the banks of the Macal River in Belize. It was recognised by National Geographic with first place honours at the 2017 World Legacy Awards held in Berlin.
ENDS