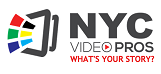 New York, New York (PRWEB) August 09, 2017
NYC Video Pros (http://nycvideopros.com) is pleased to announce EventTV; a turnkey solution to create professional-grade interviews in a fireside chat style on-location at any event anywhere.
"With today's technologies, we can bring a turnkey state of the art 4K video production studio to any conference," says Jason Cohen, executive producer. "This solution empowers conferences and events to develop a new stream of revenue, and capitalize on the industry's participation. With EventTV, we capture interviews with keynote speakers, industry leaders, and sponsors. The result is branded content that can be used in social media marketing and drive the industry, and event interest forward."
With EventTV, NYC Video Pros work with events around the globe to capture and produce video content. The solution includes setting up a multi camera studio space at the event, coordinating and producing a series of interviews, the post-production services, and delivery of branded video assets for use in social media, and marketing activities.
NYC Video Pros also offer a variety of other event video production services, including: keynote capture, panel discussions, sizzle reels, and EventTV.
NYC Video Pros was launched in 2006 as a podcasting service, and quickly evolved into a video production company. Their extensive experience includes working in the corporate, education, healthcare, finance, events and social media sectors. NYC Video Pros is based in Manhattan and works with clients from around the globe.
"We see a world of opportunity for events to create a new stream of revenue with the power of video," Cohen continues. "EventTV makes it easy for event sales teams to add video opportunities to their sponsorship offerings and help their clients to leverage their investment, develop social media content, and position the event as a leader in the field."
To learn how you can work with NYC Video Pros to implement EventTV at your next event, visit http:nycvideopros.com/solutions.
About NYC Video Pros
We are a leading video production company in New York City. Video production runs in our blood. It's in our DNA.
We have vast experiences from shooting video productions on-site to working in-studio to help organizations of all kinds and sizes produce high quality video content.
Our experienced team is dedicated to producing corporate video productions with the utmost professionalism, and a keen eye on the bottom line to ensure that our solutions are affordable and can be scaled to meet the needs of the smallest projects, to the largest productions.
Our approach is simple; you talk, we listen; our corporate video production solutions are client-driven, and personalized based on the specific needs of your project.
Contact Details:
NYC Video Pros
41 Madison Avenue
New York, NY 10010
Phone: (212) 931-4866
Source: NYC Video Pros