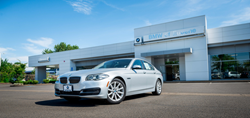 We are very excited to add this terrific dealership to the Swickard Auto Group
Eugene, Oregon (PRWEB) August 03, 2017
Swickard Auto Group is pleased to announce the completion of the purchase of BMW of Eugene, OR. The dealership is the third in the Pacific Northwest for Swickard Auto Group. The locally-owned company also owns and operates Mercedes-Benz of Wilsonville in Oregon and Epic Ford in Everett, WA.
Jeff Swickard, President and CEO of Swickard Auto Group said, "We are very excited to add this terrific dealership to the Swickard Auto Group. Our rapid expansion has been driven by finding strong dealerships and then making them better with our complete dedication to customer service and an exceptional dealership experience."
Adam Murray has been named the new General Manager and Center Operator of BMW of Eugene. Mr. Murray, who has more than a dozen years with the BMW brand, said, "Eugene is culturally and geographically rich and diverse. I am eager to roll up my sleeves and serve the Eugene customers with the customer care, product selection and attention to detail that they deserve."
The dealership will expand vehicle inventory with a focus on luxury, driving performance and environmentally-friendly vehicles and improved service offerings to meet the growing demand for luxury vehicles in the greater Eugene area.
"We are thrilled to be aligned with the exceptional BMW brand and the outstanding vehicles in the BMW line up. Our commitment to service has helped make Mercedes-Benz of Wilsonville and Epic Ford two of the fastest growing dealerships in the Northwest," says Swickard. "This purchase and the prestige of BMW will help us continue to grow."
About Swickard Auto Group: Swickard Auto Group has owned and operated Mercedes-Benz of Wilsonville since May 2014, Epic Ford of Everett, WA since January 2017, and Eugene of BMW since June 2017. Led by Jeff Swickard, the Swickard Auto Group is focused on driving growth through exceptional customer service and dealership experiences.