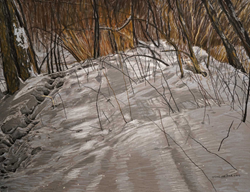 Rocky River, Ohio (PRWEB) August 07, 2017
Linda Gross Brown continues a successful summer with the exhibition of "Footsteps #7" at the Allied Artists of America's 104th Annual Exhibition at the Salmagundi Club in New York City, running from August 31st to September 17th. Linda is a continuous mainstay at the Salmagundi Club, recently presenting "Footsteps #15" at the Hudson Valley Art Association's 84th Annual National Juried Exhibition and "Footsteps #12" at the American Artists Professional League's 88th Grand National Exhibition this year alone.
Linda's painting, "Footsteps #16", was named a finalist in The Artist's Magazine's Annual Art Competition. Linda's paintings have always been a success in The Artist's Magazine's competitions and contests in the past: "Footsteps #3", "Footsteps #7", and "Footsteps #15" being selected as finalists and "Footsteps #12" winning the Pastel category in previous years.
Although the "Footsteps" series has received much critical acclaim and decoration over the years, Linda is taking a break from these paintings to work on something a bit different. A new piece is currently in the works and is expected to be finished by the end of the year.