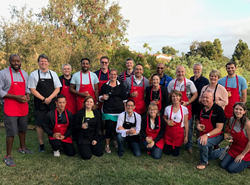 SAN DIEGO, CALIF. (PRWEB) July 27, 2017
A luxury car manufacturer and a global pharmaceutical company are the latest businesses to participate in Lajollacooks4u's popular corporate team building events this summer.
Each team gathered for a fun and interactive evening, first participating in Lajollacooks4u's signature olive oil competition to whet their palettes. Three teams were then formed, and each assembled into their assigned stations and chose a dish to prepare – an entrée, dessert or a side dish.
A head chef was selected to manage each team, and team members chose to either help prepare the recipe or to help produce a 90-second infomercial showcasing their assigned dish. Each group was given 50 minutes to complete their challenge, and judges scored each group based on taste, presentation and infomercial quality.
After the winning teams were crowned, all participants tasted and enjoyed the delicious food from each station, all while taking in the breathtaking views overlooking Mt. Soledad in La Jolla.
The continual rising success of Lajollacooks4u and its consistent five-star reviews keep companies and guests returning for their own extraordinary experience. For more information on the company's corporate team-building event packages, please visit http://www.lajollacooks4u.com.
About Lajollacooks4u:
Lajollacooks4u, founded in 2008, provides a unique culinary experience for corporate cooking challenges and special events in a magnificent setting overlooking the Pacific Ocean. Based in La Jolla, California, Lajollacooks4u has enjoyed record growth since its inception and has been ranked as the top in its category by the popular travel review site, Trip Advisor. Chef Jodi Abel also recently released her cookbook, Lajollacooks4u: California Cuisine, an accumulation of the favorite recipes her guests have been raving about. For more information about her cooking events, as well as her cookbook, please contact jodi(at)lajollacooks4u(dot)com.