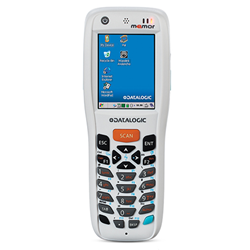 Eugene (PRWEB) July 27, 2017
Datalogic, a global leader in automatic data capture and industrial automation markets, announces the availability of the Memor™ X3 HC mobile computer. This device is the direct result of Datalogic working closely with healthcare professional to assure their needs are met in demanding healthcare applications. The Memor X3 HC device is fabricated using tough chemical resistant materials that maintain the integrity of the housing even after repeated cleaning with the strong disinfectanting healthcare solutions.
"Data capture in healthcare ensures a higher level of care, proper medication distribution and safety for patients and providers," states Paul Timmerwilke, General Mananager Healthcare Industry Unit at Datalogic. "The Memor X3 HC mobile computer brings together Datalogic's extensive data collection experience in a chemical resistant housing that assists in the prevention of infection and cross-contamination."
The device is rugged with a sealed construction that survives drops up to 1.2m / 4.0 ft and exposure to water and dust. Its unique compact form factor and excellent ergonomics offer the operator easy single-handed use. It is equipped with an advanced 2D imager and features Datalogic's patented 'Green Spot' technology for good-read feedback.
Communications are handled through enhanced Wi-Fi connectivity with IEEE 802.11 a/b/g/n in both 2.4GHz and 5.2 GHz bands and Bluetooth® technology. Further features include:

QVGA color 2.4 inch touchscreen display
Microsoft Windows CE 6.0 Pro
2D area imaging technology
256 MB RAM; 512 MB Flash memory
XScale™ PXA 310 @ 806 MHz processor
Ruggedized with 1.2m / 4.0 ft drop to concrete resistance and IP54 sealing protection
Wavelink Avalanche device management is pre-installed and pre-licensed
Bluetooth wireless technology
Removable battery pack with rechargeable 3.7 V 2300 mAh Lithium-ion battery
Charging dock is fabricated from chemical resistant materials that survive strong disinfectanting healthcare solutions
The Memor X3 HC mobile computer is ideally suited for use in laboratories, pharmacies, admitting, accounting and patient bedside point of care.
***
Datalogic is a global leader in the automatic data capture and process automation markets, specialized in the designing and production of bar code readers, mobile computers, sensors for detection, measurement and safety, RFID vision and laser marking systems. Datalogic solutions help to increase the efficiency and quality of processes in the Retail, Manufacturing, Transportation & Logistics and Healthcare industries, along the entire value chain.
The world's leading players in the four reference industries use Datalogic products, certain of the attention to the customer and of the quality of the products that the Group has been offering for 45 years. Today Datalogic Group, headquartered in Bologna (Italy), employs approximately 2,700 staff worldwide, distributed in 30 countries, with manufacturing and repair facilities in the USA, Brazil, Italy, Slovakia, Hungary and Vietnam. In 2016 Datalogic had a turnover of 576.5 million Euro and invested over 50 million Euros in Research & Development, with an asset of more than 1,200 patents in multiple jurisdictions. Datalogic S.p.A. is listed in the STAR segment of the Italian Stock Exchange since 2001 as DAL.MI. More information about Datalogic at http://www.datalogic.com.
Datalogic and the Datalogic logo are registered trademarks of Datalogic S.p.A. in many countries, including the U.S.A. and the E.U. Memor is a trademark of Datalogic S.p.A. and/or its affiliates. The Bluetooth word mark and logo are owned by Bluetooth SIG, Inc. and any use of such marks by Datalogic Group companies is under license. All other trademarks and brands are property of their respective owners.