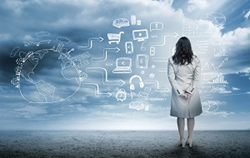 Boulder, Colo. (PRWEB) August 01, 2017
Enterprise Management Associates (EMA), a leading IT and data management research and consulting firm, today announced it will host a webinar titled "From Bare Metal to Public Cloud and Containers - 5 Best Practices for Monitoring Modern Infrastructures," featuring Torsten Volk, managing research director of hybrid cloud, software defined infrastructure and machine learning at EMA, and Umair Khan, product marketing manager at CA Technologies.
DevOps, containers, public cloud and hyperconverged composable infrastructure are popular examples of new IT paradigms and technologies today, and there is no reason to believe that the pace of technology change will slow down in the future. While all of these technologies fuel innovation, they also increase complexity and often lead to the adoption of siloed and proprietary management and monitoring tools.
EMA research shows that organizations suffer from this lack of unified monitoring solutions, which makes proactive maintenance more difficult and root cause analysis take longer as even advanced analytics solutions rely on a unified stream of comprehensive operations data to work effectively.
To help organizations stay ahead of the curve, Volk and Khan will reveal the five most important best practices to monitor a hybrid infrastructure, as well as:

How to monitor AWS and Azure together with an on-premise infrastructure
How to monitor modern container technologies alongside traditional application infrastructure stacks
How to leverage log and cross tier analytics to speed issue resolution
Why unified analytics across a hybrid infrastructure is key to lowering OPEX
Why CA Unified Infrastructure Management was identified as a Top 3 pick in the EMA Top 3 Report
Those who attend will receive a free copy of this new report.
The webinar is Thursday, August 10 at 1:00 p.m. Eastern. Those who wish to attend can register at: http://research.enterprisemanagement.com/5-best-practices-for-monitoring-modern-infrastructures-webinar-pr.html
About EMA
Founded in 1996, EMA is a leading industry analyst firm that specializes in providing deep insight across the full spectrum of IT and data management technologies. EMA analysts leverage a unique combination of practical experience, insight into industry best practices, and in-depth knowledge of current and planned vendor solutions to help clients achieve their goals. Learn more about EMA research, analysis, and consulting services for enterprise line of business users, IT professionals and IT vendors at http://www.enterprisemanagement.com or blogs.enterprisemanagement.com.