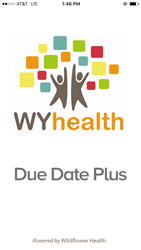 San Francisco, CA (PRWEB) July 31, 2017
The Wyoming Department of Health alongside Wildflower Health announced today that research published in Telemedicine and e-Health shows that Medicaid patients who used mobile maternity app WYhealth Due Date Plus were significantly more likely to have a first trimester prenatal visit, and experienced reduced incidence of low-birth weight babies. Wildflower Health's application includes educational information on pregnancy and connects app users with relevant health care and community resources.
Study results suggest that use of the WYhealth Due Date Plus application was associated with a statistically significant increase in the completion of prenatal visits at least 6 months before delivery—an important HEDIS measure and milestone in ensuring a healthy pregnancy and delivery. A Medicaid member was estimated to be 76% more likely to have a 6-month or more prenatal visit if she was an app user.
Analysis also found an association between use of the app and lowered incidence of low-birth weight delivery. Low-birth weight increases the risk for short-term and lifelong health conditions including diabetes, heart disease, metabolic syndrome, and obesity. A Medicaid member was estimated to be only 25% as likely to have a low-birth weight baby if she was an app user.
The study appears as original research in the peer-reviewed journal Telemedicine and e-Health (http://online.liebertpub.com/doi/pdfplus/10.1089/tmj.2016.0242) and examines the impact of the mobile app, WYhealth Due Date Plus, on pregnant women in Wyoming. The study followed a cohort of 85 pregnant app users with verified Medicaid IDs and 5,158 pregnant non-app users with delivery outcome records in Wyoming Medicaid.
Engagement rates among users were high, with significant adoption among Medicaid providers and the pregnant population. During the study period, over 1,730 people downloaded the application. On average, registered Medicaid users visited the app 6.4 days per month.
"What I feel was a major factor in the success of Due Date Plus was that we were able to work with Wildflower Health to customize its links to connect users with providers and resources specific to their community. We are able to track how women are accessing these resources and programs," said James Bush, MD, FACP, study co-author and Medical Director of Wyoming Medicaid.
The WYHealth Due Date Plus app is designed to engage pregnant women early and often with clinical information on common pregnancy symptoms and key health milestones. It also connects users to information on Wyoming Medicaid benefits and community wellness resources such as the Women, Infants and Children (WIC) program and the Wyoming Quit Tobacco Program.
Wyoming and other states stand to benefit considerably from digital health solutions that promote wellness and access to care. Effective programs can be difficult to implement anywhere, but the task is especially challenging in states like Wyoming, where population density is low and opportunities for in-person support are limited. The state saw the app as a potential tool to help reduce the incidence of negative prenatal and birth outcomes, which carry high financial and social costs in both the short and long term. "Wyoming Medicaid saw fewer low-birth weight children in women who used the app than those in Medicaid not using the app, and we feel the app produced a 3:1 ROI based on cost avoidance," said co-author James Bush, MD. "Cost savings and improved birth outcomes is a winning combination."
"Wildflower Health is committed to helping pregnant women and their families have healthier pregnancies," said Dilek Barlow, MA, study co-author and Director of Client Services at Wildflower Health. "This study demonstrates that mobile maternity applications can positively influence people's decisions to attend early prenatal appointments and improve their connections to healthcare resources. Moreover, it shows that Medicaid populations can be highly engaged with digital tools that have the potential to greatly improve outreach and education in this population."
Authors of the study include: James Bush, MD, FACP, Dilek Barlow, MA, Jennie Echols, PhD, MSN, RN, Jasmine Wilkerson, MS, and Katherine Bellevin, MA.
About Wildflower Health
Wildflower Health produces mobile health programs that help families better connect to healthcare and help healthcare enterprises influence behaviors across a lifetime of health decisions. The company's mobile applications target women and their families to drive prevention, risk identification and connections to care right on the smartphone, starting in pregnancy and extending as family health needs evolve. Wildflower Health's software is highly configurable for health enterprise clients to reflect their health services and benefits, creating a highly personalized experience for application users. The company's applications are offered to consumers worldwide by leading health plans, hospitals and employers.
For more information, visit http://www.wildflowerhealth.com or follow us on Twitter and LinkedIn.