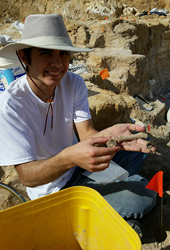 I am loving it! I'm learning so many new things," says Trey. "I've always wanted to do paleontology, and now I got to do it.
Old Town, FL (PRWEB) August 07, 2017
A new program is helping high school students with disabilities check out different career paths before graduation. The Explorations program, a spinoff of the Hands On Education program, sets up internships for high school students so they can try out different career fields to see what kind of job would best suit them.
Four students are currently enrolled in the program, which recruits through Vocational Rehabilitation (VR), a federal/state agency that helps people with disabilities get or keep a job. The students participate in multiple internships while in high school and get paid minimum wage.
The facilitator of the program, Amy Brugger, teaches the students how to create a resume, apply for jobs, dress for an interview, and interview for a job. The students share the different career areas they are interested in trying, and Amy finds a local business who is willing to offer the internship, at no cost to the business.
Trey Hall is a senior in high school this year and has autism, but he's always wanted to be a paleontologist. That was a tough career goal for Amy, but fortunately the Florida Museum of Natural History was looking for volunteers to help at a paleontology dig in Levy county. She called up the museum and talked to the lead professor, who said Trey could come on as a paid intern at the dig. He was thrilled!
"I am loving it! It is so much fun, and I'm learning so many new things," says Trey. "They have this big fossil there that they've found and are digging up that's an elephant-type creature with four tusks called a Gomphothere. So I'm down in the dirt with the other paleontologists digging up fossils."
When asked what is the best thing about the new Explorations program, Trey says "Getting to explore something in real life that I've only thought about doing for so long. I've always wanted to do paleontology, and now I got to do it."
Amy is happy she was able to find this opportunity for Trey. "It's a really neat experience," she says. "It's such a unique job choice, so I was excited we could find something in our rural area for that interest."
Nikita Timmons, who has a learning disability, wanted to work in an office, so she has spent the last nine weekends helping at Otter Springs front office. She rings up people's purchases on the cash register, works on the computer using Microsoft Office, helps with special events, and she even taught the adults how to send a photo from their phones directly to the printer for printing.
When asked how her internship was going, she said, "I really like it because it teaches me what I'll be doing in an office when I get older and out of high school. I've just had a great time at Otter Springs. I like everything about it, and I like all the people that were around me."
Nikita is in 11th grade this year, so she has another year before graduation. Still, she's pretty certain what she wants to do for her career. "I want to work in an office! I have to try another internship this summer, so maybe I'll try being a receptionist, but I know I want to work in an office." She'll be an asset to any business.
Two other students are also interning at Otter Springs, where Bill Smith taught them basic carpentry by helping repair a ramp so people with disabilities can use it safely. They also learned measuring, welding, the correct way to paint, and how to re-screen a door and windows. They've gotten to experience the full extent of the job, including that it's mainly an outdoor job, and that means they have to deal with the weather.
When the students complete the Explorations program, after 20 hours of pre-employment training and 80 hours of paid employment, they stay in the VR program so their VR counselor, Kasandra Knopp, can make sure they receive the services they need to reach their career goals. That could mean college, training, technical school, or other services. But with this great head start, they should have a definite idea of the type of career they want to pursue.
About Vocational Rehabilitation
Florida's Vocational Rehabilitation (VR) is a federal-state program committed to helping people with disabilities become part of America's workforce. The employer-focused website, https://abilitieswork.employflorida.com/, allows businesses to search at no charge for employees who are ready to go to work, as well as to post available jobs. VR has 90 offices across Florida, and last year helped 5,194 Floridians with significant disabilities find or keep a job. For more information about VR and its services, call (800) 451-4327 or visit http://www.Rehabworks.org.