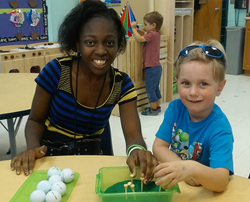 The students become their buddies, and it's so fun to see," says Project SAINT Administrator Linda Mussilo
Gainesville, FL (PRWEB) August 22, 2017
Kelsey Burley, who has cerebral palsy, wants to be an elementary school or day care teacher. She's taking classes at Santa Fe Community College and interning at the college preschool and B'nai Israel Day Care as she works toward a certificate in childcare. "I read books to them. They like all kinds of books," she says.
Kelsey is part of a new program at Santa Fe Community College that gives students with intellectual disabilities the chance to experience college life first hand. Called Project SAINT (Student Access and Inclusion Together), the program works to increase the students' independence so they can work and live on their own. Santa Fe College is collaborating with Vocational Rehabilitation (VR), a federal/state agency that helps people with disabilities get or keep a job, to offer the program.
Each student builds a career plan around his/her personal goals with the main goal of earning an industry-level certification when he/she graduates. The students take classes in adult education and audit other appropriate college courses.
The students have mentors – Santa Fe students hired to help them achieve these goals. "I have four or five mentors," Kelsey explains. "I've got a mentor who is doing childcare like me, early childcare for kids with disabilities or special needs. She wants to teach kids too."
Emily Nino mentors Ella, who has an intellectual disability and is interning with the women's basketball team. She goes with Ella to team practice twice a week to help guide her as needed. "Sometimes Ella joins in with practice – helping with free throws – and other times, she works in the office creating excel spreadsheets to organize their meal tickets," Emily says.
Linda Mussillo, Project SAINT Administrator, has seen a fascinating change in both sets of students. "The students become their buddies, and it's so fun to see. They're texting each other, hanging out, it's fantastic. It's a win-win for the Santa Fe students who want to go into these types of professions – nursing, social work, etc. – as well as the students participating in the program, who benefit by interacting with other students."
The students also attend workshops once a week, so they'll be able to live on their own once they've finished school and found a job. Kelsey explains, "We have health and nutrition class, where we learn how to cook on our own. We are learning how to count money, so we can go to the store. We do chores and read books from the library. We do math too with our mentors. Any math that we don't know how to do, they help us."
For Emily, becoming a mentor with Project SAINT has made a real difference in her life. "I've always wanted to do something that involved working with someone with disabilities and helping them to gain some independence as well," she says. "They're people just like us, not really any different."
Project SAINT is picking up steam. There are five students currently in the two-year program and five have already graduated with all five finding jobs after earning their certificates. They plan to work their way up to having 10 students in the program at a time.
About Vocational Rehabilitation
Florida's Vocational Rehabilitation (VR) is a federal-state program committed to helping people with disabilities become part of America's workforce. The employer-focused website, https://abilitieswork.employflorida.com/, allows businesses to search at no charge for employees who are ready to go to work, as well as to post available jobs. VR has 90 offices across Florida, and last year helped 5,194 Floridians with significant disabilities find or keep a job. For more information about VR and its services, call (800) 451-4327 or visit http://www.Rehabworks.org.