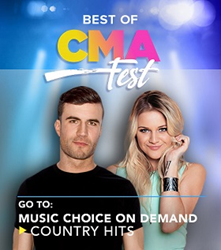 Nashville, TN (PRWEB) August 01, 2017
Music Choice extends its strategic partnership for the fourth year with The Country Music Association for 2017. The promotion kicks off July 31st with CMA Music Festival content across all Music Choice properties including Music Choice On Demand, Music Channels, the Music Choice App and digital properties. As part of the collaboration, Music Choice will continue to feature CMA content through 2017 for marquee events including "The 51st Annual CMA Awards" and "CMA Country Christmas." "CMA Fest" airs August 16th (8:00-11:00 PM/ET) on the ABC Television Network.
Starting today, Music Choice On Demand will highlight interviews, music videos and playlists from "CMA Fest" hosts Thomas Rhett and Kelsea Ballerini, plus many more artists appearing on The Music Event of Summer. (Directional: MC Music Choice > Country Hits)
"CMA Fest" artist facts and images will appear across Music Choice's Today's Country, Pop & Country, and Country Hits Music Channels. "CMA Fest" programming will also take over the Today's Country Video Channel (available via the app or MusicChoice.com) featuring music videos and original content from "CMA Fest" artists.
Get Music Choice on all your devices, and find out more at app.musicchoice.com.
About CMA Music Festival: The Ultimate Country Music Fan Experience began in 1972 as Fan Fair®, bringing 5,000 fans to Nashville's Municipal Auditorium. Now 46 years later, the legendary Festival has become the city's signature music event hosting tens of thousands of fans from every state and two dozen foreign countries. The 2017 CMA Music Festival featured 11 stages with more than 300 acts and 100 hours of music, all to benefit music education. CMA Music Festival was filmed for a national television special that airs on the ABC Television Network. This is the 14th consecutive year the event will be broadcast on national television, a feat no other music festival has achieved. "CMA Fest" is executive-produced by Robert Deaton and co-hosted by Thomas Rhett and Kelsea Ballerini.
About Music Choice: Music Choice, the multi-platform video and music network, delivers its music programming to millions of consumers nationwide through their televisions, online, and mobile devices. Music Choice programs dozens of uninterrupted music channels; produces originals that feature today's hottest established and emerging artists; offers thousands of music videos; and launched Music Choice Play, the music video, lifestyle, and entertainment network for Millennials. For additional information log on to MusicChoice.com | Twitter: @MusicChoice | Facebook: facebook.com/MusicChoice.
###
Press Contact:
Josefa Paganuzzi (Music Choice) (646) 459-3357
Krista Dial (CMA) (615) 244-2840