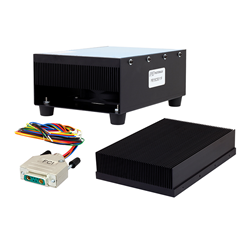 "Designers will find these accessories extremely valuable for use in test and system level applications to ensure that optimum performance and long-term reliability are achieved," said Tim Galla, Product Manager at Pasternack
IRVINE, Calif. (PRWEB) August 01, 2017
Pasternack, a leading provider of RF, microwave and millimeter wave products has released a new series of RF and microwave power amplifier accessories that includes heat sinks, heat sinks with cooling fans and power control cable assemblies. Heat sinks are devices that enhance heat dissipation from a hot surface and are ideal for thermal management of power amplifiers in test and measurement applications. A functioning power amplifier will generate elevated levels of heat that needs to be properly dissipated to insure the internal circuit assembly does not become damaged from extreme high temperature exposure. Operating at cooler temperatures and below the maximum operational temperature ensures optimum performance and reliability of the power amplifier will be maintained.
Pasternack offers eight different heat sink models, some of which are designated for general purpose usage and others are configured for select power amplifier models. These heat sinks feature finned extrusion profiles with large baseplate mounting surfaces and AC or DC power supply options for models that support integrated cooling fans. Most models include thermal mounting gaskets for optimal thermal flow. The general purpose heat sink models (PE15C5013 and PE15C5013F) can be used for all Pasternack power amplifier models where a heat sink is recommended, typically 1 watt and greater. To support test and measurement applications, Pasternack offers four power control cable assemblies that are configured for select power amplifier models with D-sub connector interfaces.
"Our new amplifier accessories are for use in combination with a wide selection of our power amplifier models. Designers will find these accessories extremely valuable for use in test and system level applications to ensure that optimum performance and long-term reliability are achieved," said Tim Galla, Product Manager at Pasternack.
Pasternack's RF and microwave power amplifier accessories are in stock and ready for immediate shipment with no minimum order quantity. For detailed information on these products, please visit https://www.pasternack.com/pages/Featured_Products/amplifier-accessories.html.
For inquiries, Pasternack can be contacted at +1-949-261-1920.
###
About Pasternack:
A leader in RF products since 1972, Pasternack is an ISO 9001:2008 certified manufacturer and supplier offering the industry's largest selection of active and passive RF, microwave and millimeter wave products available for same-day shipping. Pasternack is an Infinite Electronics company.
Press Contact:
Peter McNeil
Pasternack
17792 Fitch
Irvine, CA 92614
(978) 682-6936 x1174