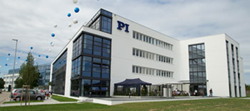 There are no modern high-performance microchips being manufactured that PI is not involved in.
Auburn, MA (PRWEB) July 28, 2017
Less than 1 year after breaking ground and laying the ceremonial cornerstone, precision motion and nanopositioning solutions leader PI (Physik Instrumente) announces the opening of its Technology Center, which included an inaugural ceremony attended by hundreds of guests.
Housing additional 200 workplaces, as well as test and measurement laboratories, clean rooms and environmental chambers, and an auditorium for seminars and training events, the Center brings together PI's development teams into one shared space to promote interdisciplinary exchange and collaboration in a creative workspace. PI's precision motion and positioning solutions include multiple levels of integration, from individual nanopositioning components to complete custom engineered motion systems for precision industrial automation applications.
Honoring company founder and President of PI by naming the auditorium after him, Dr. Karl Spanner explained, "We operate in a high-tech sector that has a profound effect on the future. There are no modern high-performance microchips being manufactured that PI is not involved in. Motion, positioning, measuring, and controlling with the highest accuracy will continue to be our objective in the future and the main reason why we made the decision to build the Technology Center".
Learn About PI Motion Control & Positioning Solutions>
Standard and Custom
PI has in-house engineered solutions with over 4 decades of experience working with customers to provide products that meet application demands, and can quickly modify existing product designs or provide a fully customized OEM part to fit the exact requirements of the application.
USA / Canada
http://www.pi-usa.us | info(at)pi-usa(dot)us
East
(508) 832-3456
Midwest
(508) 832-3456
West
(949) 679-9191 (LA Area & Mexico)
(408) 533-0973 (Silicon Valley/Bay Area)
About PI
PI is a leading manufacturer of air bearing stages, piezoelectric solutions, precision motion control equipment, and hexapod parallel-kinematics for semiconductor applications, photonics, bio-nano-technology and medical engineering. PI has been developing and manufacturing standard & custom precision products with piezoceramic and electromagnetic drives for 4 decades. The company has been ISO 9001 certified since 1994 and provides innovative, high-quality solutions for OEM and research. The PI group employs more than 1,000 people worldwide in 15 subsidiaries and R&D / engineering centers on 3 continents.