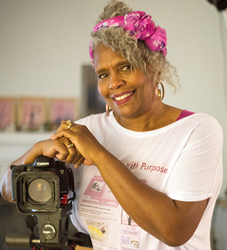 We are honored that viewers from around the world gave us the high ratings needed to win
(PRWEB) August 01, 2017
The Winners of the 38th Annual Telly Awards have been announced, and cable television program Silver Sage, produced and hosted by film-maker and professional photographer Joan Rudder-Ward, won Silver Telly awards for both entries that were submitted in the People's Telly TV Shows/Segments Category.
The Silver Telly is the competition's highest honor and is bestowed on less than 10% of entries. The People's Telly gives entrants the opportunity to earn recognition from industry leaders, producers, and enthusiasts from around the world. The online community is given the power to rate videos and help decide who the winners will be.
"We are overjoyed to be the recipient of the prestigious Silver Telly," said Rudder-Ward. "Such an honor that viewers from around the world gave us the high ratings needed to win."
Silver Sage is a weekly inspirational television program featuring people 50+ who are living out loud– charting new waters, taking new risks, fulfilling life-long dreams— proving that life in the second half can rival, and in some ways, be even be better than the first half. The show's motto- You can't help getting older, but you don't have to be old!
The program currently appears on Pasadena Media's The Arroyo Channel on Spectrum Charter and AT&T U-verse. Previous episodes can be viewed at the Silver Sage website http://www.asilversage.com
Silver Sage's winning entries:
"Leap of Faith," features Roxy Gantes-West who left her 25-year-career as a psycho-therapist to pursue her lifelong dream of being an artist. From childhood Roxy knew she wanted to be an artist, and at 18 she did get accepted to the Art Center of Pasadena. But she faced a scenario many boomers know all too well—having childhood passions of pursing artistic-type careers being discouraged by well-meaning elders for more stable professions or 'real' jobs. Roxy's father discouraged her from taking the artistic path, and she went on to have a rewarding career as a psycho-therapist who incorporated art into her practice. But when three of her cousins died in one month, Roxy decided it was time for her take that leap of faith and pursue her ingrained passion.
"In the Midst of Gorillas in the Mist," features Christine Pence, photo enthusiast and a professor of International Entrepreneurial Studies, who fulfilled her dream of traveling to Uganda to photograph gorillas in the wild. When she couldn't convince anyone to accompany her on the trip, she went alone.
Founded in 1979, the Telly Awards is the premier award honoring outstanding content for TV and Cable, Digital and Streaming, and Non-Broadcast distribution. Winners represent the best work of the most respected advertising agencies, production companies, television stations, cable operators, and corporate video departments in the world. This year's winners include companies, agencies and organizations of all sizes, from large multinational media companies to small ad agencies and local production houses.
With over 12,000 entries from all 50 states and 5 continents, this year's competition
has been one of the most successful and competitive in the long history of the Telly Awards. "We are extremely proud to once again recognize outstanding productions in the film and video industry." said Executive Director Linda Day. "The quality of work submitted each season continues to exceed our expectations."