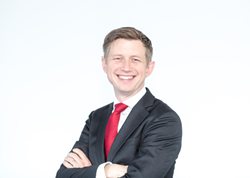 "Data is the new currency of businesses, as organisations become increasingly data driven they must build systems to protect, manage, and leverage this asset."
(PRWEB UK) 3 August 2017
Tectrade, based in Godalming, UK and New York, US is pleased to announce the appointment of Richard Wainwright as its new Chief Technical Officer.
Richard brings over 15 years' experience in the technology sector, working for large vendors and systems integration businesses. He joins from Dimension Data UK where he held roles in technical sales leadership, portfolio management, and latterly strategic alliances.
His background in workspace and communications technologies brings a new perspective to Tectrade, all used to focus the portfolio on helping clients with their data challenges.
"Data is the new currency of businesses, as organisations become increasingly data driven they must build systems to protect, manage, and leverage this asset. At Tectrade we have the expertise to solve the big problems and make this possible for our clients. We have a great opportunity to shape the future in a changing market," says Richard.
Alex Fagioli, CEO of Tectrade added, "Richard brings a wealth of experience to this newly created position, and will be overseeing our Helix protect portfolio. He will be looking to consolidate and develop a road map for our current service offerings, working with our preferred vendors to ensure we continue to be the data protection partner of choice.
We are delighted to have Richard join Tectrade and are passionate about investing in our solutions and services to fulfil the future vision of the company."
Further information on Tectrade can be found at http://www.tectrade.com