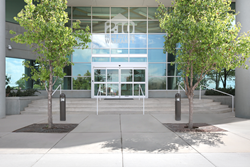 Denver, CO (PRWEB) July 31, 2017
Jennifer Pingrey
National VP of Marketing
jpingrey(at)2-10(dot)com
720.747.6137
2-10 Home Buyers Warranty Moves into New Corporate Headquarters
2-10 Home Buyers Warranty (2-10 HBW), an industry-leading provider of new home structural warranties and systems and appliances coverage for new and existing homes, moved into the company's new corporate headquarters. Located at 13900 E. Harvard Avenue, a short distance from RTD's new Iliff light rail station, the 74,000 square foot building houses 350 employees today, with expansion for 450.
"We modernized and upgraded every facet of the building. Employees received new workstations and chairs, and we more than doubled the conference and huddle room space for greater collaboration," said Scott Cromie, 2-10 HBW's Chairman of the Board and Chief Executive Officer.
2-10 HBW worked with the design and architecture firm of Acquilano Leslie and construction was completed by Howell Construction. The interior design features accents utilizing materials synonymous with home and home building, which compliments the company's mission of "improving the quality of home building and the experience of home ownership."
Each floor features large community breakrooms which provide space for employees to host company events, like First Friday. First Friday gives each department an opportunity to host and share how they impact the business and the company's customers. Other features on each floor include private phone booths, wellness rooms, and coffee bars. Employees are also enjoying the line-up of food trucks twice a week.
"As we settle in, I am extremely pleased to see that our vision for a collaborative and agile workspace has been realized," added Cromie. "There is a buzz amongst the employees and many have verbalized their extreme satisfaction with the space."
About 2-10 Home Buyers Warranty
For over 37 years, 2-10 Home Buyers Warranty has been a market leader in helping people protect one of life's biggest investments with new construction structural warranties and systems and appliances coverage for new and existing homes. Founded and based in Colorado, 2-10 Home Buyers Warranty has covered over 5.8 million homes and partners with thousands of the nation's finest real estate professionals, home builders and service contractors to help home buyers, sellers and owners to mitigate risk, save money and have protection from the unexpected. For more information, visit 2-10.com.