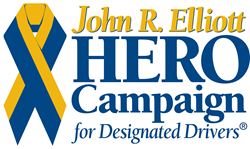 Upper Pittsgrove Twp., N.J. (PRWEB) August 01, 2017
The John R. Elliott HERO Campaign for Designated Drivers® held a dedication ceremony for Navy Ensign, John Elliott, in Upper Pittsgrove Township in Salem County, N.J. on Friday, July 21.
Navy Ensign, John Elliott, tragically lost his life seventeen years ago when his vehicle was struck head-on by a drunk driver on the very road that will now bear his name. During the ceremony on 852 Route 40 in Upper Pittsgrove Township, the latest upgrades to the roadside memorial were revealed, and the road's name will be forever changed.
Bill and Muriel Elliott, John's parents who founded the HERO Campaign for Designated Drivers, attended the ceremony, along with their daughter Jennifer and state and local dignitaries. Joining the Elliotts were Richard Tolson, President of The International Union of Bricklayers and Allied Craftworkers/Administrative District Council of New Jersey, and Richard Sweeney, President of Iron Workers Local 399 and himself a victim of a DUI crash.
State Senate President Steve Sweeney also announced the passage and signing of legislation to rename a portion of Route 40 the John R. Elliott HERO Campaign Way in honor of the Navy Ensign.
The new memorial includes new stonework and a metal railing, as well as a plaque with messaging about John's Law, which allows police in New Jersey to seize the vehicles of suspected drunk drivers and hold them for up to 12 hours, and the HERO campaign. Work was completed by the Iron Workers Union Local 399 and the International Union of Bricklayers.
About the HERO Campaign for Designated Drivers:
The HERO Campaign was established by the family of Navy Ensign John Elliott of Egg Harbor Township, NJ, who was killed in a July 2000 collision with a drunken driver two months after graduating from the United States Naval Academy. The Campaign is now saving lives in seven states in partnership with law enforcement; schools and colleges; federal and state highway safety organizations; the licensed beverage industry; professional sports teams including the Philadelphia Phillies, the New York Football Giants, and the New England Patriots; Churchill Downs, home of the Kentucky Derby; and Keeneland Race Course, home of the 2015 Breeder's Cup. Since its inception in 2000, the HERO Campaign has grown into a major grassroots movement to prevent impaired driving that has received national recognition and awards. It has also helped to reduce alcohol-related fatalities and incidents, including a 35 percent reduction in DUI fatalities in New Jersey and other states over the past decade. For more information visit HEROcampaign.org or call 609-626-3880.