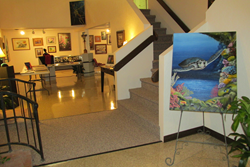 Duncan, OK (PRWEB) August 09, 2017
The Chisholm Trail Arts Council is proud to host their annual Kick Off Reception which will feature close to 20 different artists' artwork in the CTAC Art Gallery, located at 810 W Walnut, on August 17, 2017 from 5:30 pm – 7:30 pm.
The Kick Off reception is a time that CTAC announces their 2017-2018 activities such as their Membership Drive, their CTAC Live Concert Series line up, and the upcoming Art Gallery exhibits. The membership drive is a vital time in the local arts community as state funding continues to be cut. Chisholm Trail Arts Council is a nonprofit organization which was founded in 1976 and continues to grow and provide the county with a large variety of programs which include: CTAC Live Concert Series, Arts Explosion, Art Education in Schools, ArtWalk Duncan, and the CTAC Art Gallery. CTAC thanks the major support from the Oklahoma Arts Council, National Endowment of the Arts, McCasland Foundation as well as their local business supporters and members who have continued to support their mission in the arts for the Duncan community.
This year, the Kick Off is proud to bring new and returning artists back to display beautiful, unique, and exciting new artwork as they begin the new season. Some of the new artists include: Dr. Bob Palmer, Katy Carroll, Sarah Enoch, Sarah Ivey, and several students under the direction of Jennifer Steil at Cedar Cove. Returning artists include James "Fritz" Fatheree, Margaret Schick, Martha Burger, Sharon Burum and many more.
This reception is a come and go event with finger food and wine for those 21 and older. Special sponsors for this event is Murphree's Wine and Spirits and Matt Setters, Johnny Owens Realty. The exhibit will be on display August 17 through September 30th and is open to the public for viewing.
For more information on memberships and programs please visit us at http://www.chisholmtrailarts.com or call 580-252-4160.