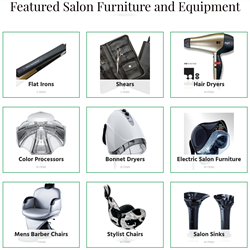 RegalHairColor.com Features The Finest Salon Furniture Available Today!
(PRWEB) August 29, 2017
Regalhaircolor.com, is proud to announce it has just signed a deal to start importing Ceriotti SRL luxury salon furniture and hair tools directly from Milan Italy to the United States.
All the Ceriotti SRL salon products are now available to shoppers on a brand new e-commerce website developed by Patrick Zarrelli and Dependable Website Management. The amazing new website provides the easy online purchase of upscale salon furniture. As well as a wide variety of modern operating tools and equipment for top salons and distribution outlets.
"We are thrilled to partner with Ceriotti SRL to showcase their amazing products, salon furniture, and hair tools in the U.S.", says owner and President of Regal USA Haircolor, Gary Dippold. "Their passion and dedication to making quality salon furniture is already well known. It's an honor to be able to work alongside their team."
Regal USA Haircolor has been in the beauty industry since 1999 as a distributor of high quality salon furniture and salon products. The Ceriotti salon furniture importing relationship is the pinnacle of their long career in the industry. RegalHairColor.com is now set to ship this amazing, modern, Italian furniture to all the best salons in the country.
The company revealed in a recent interview, that focusing on providing salon furniture and hair tools via e-commerce is most certainly the future of the salon supply industry. While the amazing Ceriotti salon furniture they are importing from Milan represents the interior design future of the industry. Together with the combined power of RegalHaircolor.com and the Ceriotti SLR furniture line. Regal firmly believes they are set to become the first name in online deliverable salon equipment.
To feature the best and most modern furniture and equipment imported straight form Milan in your salon, please phone Gary or AJ Dippold at 800-734-2593 or email them at info(at)regalhaircolor(dot)com. To shop right now for salon furniture imported from Milan simply visit our brand new online store at http://www.regalhaircolor.com.