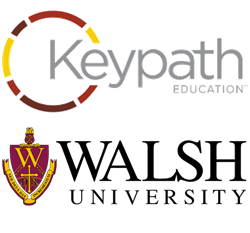 Keypath has demonstrated their commitment to student experience and ability to deliver sustainable enrollment growth. - Provost Douglas Palmer
CHICAGO (PRWEB) August 01, 2017
CHICAGO (August 1, 2017) – Walsh University has announced a partnership with Keypath Education, a leading provider of online program management (OPM) services, to launch new and grow existing online business and nursing programs. Walsh University is a private non-profit Roman Catholic university in Canton, Ohio, ranked #49 for Regional Universities Midwest and #29 for Best Colleges for Veterans by U.S. News & World Report.
"The demand for nursing and business programs continues to grow year over year, especially at the postgraduate level. Enrollment in master's Nursing programs grew by 39% between 2011 and 2016, while enrollment in RN-BSN programs grew by 62% during the same time period. We believe there is an opportunity for Walsh University to capitalize on these in-demand programs, extend their reach and lay a groundwork for future distance learning opportunities," said Keypath Education CEO Steve Fireng.
Walsh University is dedicated to educating its students to become leaders in service to others through a values-based education with an international perspective. Walsh University has the complementary goals of reinventing the university experience for adult learners while delivering the highest quality of instruction and retaining the one-to-one student and faculty interaction for which the university is known.
Walsh University chose Keypath Education for their end-to-end online program expertise and reputation of working with similar institutions to expand access to working professionals while preserving instructional quality. The partnership entails collaboration with university leadership and faculty on all facets of the student lifecycle, including capital to fund the programs, marketing and recruitment, retention services, as well as course development and faculty support.
The ten-year partnership supports the following programs:
· Bachelor of Business Administration
· Master of Business Administration
· Registered Nurse to Bachelor of Science in Nursing
· Master of Science in Nursing – Family Nurse Practitioner
· Master of Science in Nursing – Nurse Educator
"We realized we had to both prepare the university for future generations and extend the instruction and mission to those who might not have had access to Walsh University before," said Provost Douglas Palmer. "We sought a partner that would be responsive to our unique culture and mission. Keypath has demonstrated their commitment to student experience and ability to deliver sustainable enrollment growth."
For more information about the partnership, contact Andrea McCaffrey, director of university relations, at amccaffrey(at)walsh.edu or 330.490.7296. For more information about Keypath or online program management services, please contact Chris Williams, director of marketing, at chris.williams(at)keypathedu.com or 847.616.8167.
About Walsh University
Walsh University is an independent, coeducational Catholic, liberal arts and sciences institution. Founded by the Brothers of Christian Instruction, Walsh University is dedicated to educating its students to become leaders in service to others through a values-based education with an international perspective in the Judeo-Christian tradition. Walsh University believes in the desirability of a small university that promotes academic excellence, a diverse community and close student-teacher interactions. The University provides its students a higher education that fosters critical thinking, effective communication, spiritual growth, and personal, professional and cultural development. Walsh University encourages individuals to act in accordance with reason guided by the example and teachings of Jesus Christ. Visit walsh.edu to learn more.
About Keypath Education
Keypath Education partners with higher education institutions worldwide to launch programs, grow enrollment, improve learning and connect education to careers, using a proprietary technology suite. The company has helped more than 4,000 higher education institutions better serve students and graduates, resulting in a strong reputation for its education mission and quality in the United States, Canada, the U.K. and Australia. Since its beginning more than 25 years ago, Keypath Education has been dedicated to changing lives through education. Visit keypathedu.com to learn more.