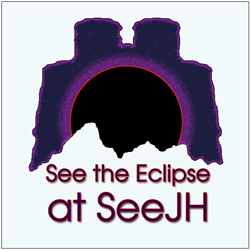 Jackson Hole Wyoming's Y2K
JACKSON HOLE, WY (PRWEB) August 01, 2017
On August 21, 2017 the sky will be putting on a show, extending from Oregon's coast to Charleston, SC. Viewers can have a front seat from anywhere on the planet at SeeJH.com. During this total solar eclipse, the moon will be passing in front of the sun, generating a rare opportunity to view the sun's corona within a darkened twilight sky. Viewers will see a complete fading of the sun's body, leaving a ring of blazing reds, radiant oranges, and brilliant yellows. Many accounts of total eclipses have been written throughout history, and this particular total solar eclipse is a rare event worth witnessing. SeeJH.com will have its own eyes on the event with dedicated cameras streaming in real-time in the Jackson Hole Wyoming valley.
This August's eclipse will uniquely span the entire United States, resulting in just over two minutes of twilight in its path. An estimated several million people will travel to watch America's skies. Traffic forecasts are calling for significant impacts to roads, advising people to arrive at their viewing destination a full two days prior. Hotels and other lodgings are packed solid, and experts advise to arrive as self-sufficient as possible with water, food, and a full gas tank.
SeeJH.com is hosting a world-wide live stream of this event, possibly the first of its kind, offering the opportunity for anyone to be a part of it. For those who can't make the pilgrimage, prefer to avoid the traffic, or missed out on a hotel, SeeJH.com serves viewers with an expert live-stream offering the complete viewing experience from anywhere via the internet.
Stay tuned for more information on viewing the 2017 total solar eclipse at SeeJH. In the meantime, become more versed on the eclipse's history and particulars via several websites, including http://www.greatamericaneclipse.com and http://www.mreclipse.com. Preview SeeJH.com's unique camera angles for the historic event and take in the backdrop of the Grand Teton mountain range at https://www.seejh.com/webcams/jacksonhole/grandteton/egvb. Note: Eclipse viewing glasses are not necessary for viewing online, and the eclipse cameras will sport lens filters for this event.