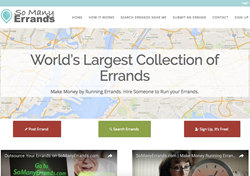 Make Money by Running Errands. Hire Someone to Run your Errands.
(PRWEB) August 02, 2017
SoManyErrands.com, one of the fastest growing start-ups in today's so-called "gig" economy, recently surpassed 1 million users. The growing website does a brilliant job of connecting people seeking short-term employment and others who are seeking help with household errands such groceries, cleaning or lawn mowing. Signing up for an account at SoManyErrands.com comes at no cost and also enters users into a monthly drawing where 50 lucky winners win a t-shirt or a cap.
The gig economy refers to an environment in which employers provide short-term employment and contract-based work for independent and freelance workers. Freelancers get to choose the kind of work that they are interested in rather, than being forced into a job where they do any work that lands in their hands.
Participation in the gig economy is constantly growing. Today, websites like Upwork or Fiverr are used to hire people from anywhere in the world for short-term employment and ride-sharing apps like Uber can be used to hire a local driver for a ride. Similarly, SoManyErrands.com can be used to hire someone located close-by to run errands.
Despite rising incomes, more and more people find themselves pressed for time. Paying someone on SoManyErrands.com to run your household errands frees up more of your time and significantly reduces stress. It also provides a short-term employment opportunity for others.
The website is simple and easy to use. Users looking for help around the house, can submit an errand listing and wait for applicants nearby who will run those errands. Users looking to make some extra cash in their free time, can search for errands nearby and apply to run them.
Founded by a Canadian Internet Entrepreneur, Utsav Sarkar, SoManyErrands.com has gained large amount of users in a short span of time. People from all over the world including USA, CANADA, UK, Singapore, India, Australia and New Zealand use the site. The site has proven to be a great way for students to make side income. Similar to an Uber driver, errand runners get to choose their own work schedule and errand employers get to pick who runs the errand. For more details, please visit https://www.somanyerrands.com/how-it-works/.