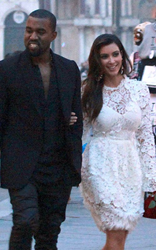 Everyone, famous or not, who wants to start a family deserves a chance at the love and happiness that comes with being a parent.
Beverly Hills, California (PRWEB) July 31, 2017
A July 26th article on Elle announces that Kim Kardashian and Kanye West's next child, which will be delivered by a San Diego gestational surrogate, is expected to arrive in January of 2018. Mrs. Kardashian and her husband made the decision to pursue surrogacy after the mother of two was told by doctors that it would not be safe for her to undergo another pregnancy. Surrogacy agency Global Fertility Concepts notes that everyone, famous or not, who wants to start a family deserves a chance at the love and happiness that comes with being a parent. It adds that Kim and Kanye's experiences are typical of families featuring both famous and less well known individuals.
The agency, which is based in Beverly Hills, California but performs services for families worldwide, notes that very well-known intended parents in fields such as entertainment, politics, and high-tech have a number of very particular needs that may differ, and which should be handled with great care and sensitivity. For example, GFC points out that Kim and Kanye have decided to be very public about having their child via a surrogate, but others may wish to take the opposite approach and to keep the process completely confidential; some parents may wish to release information, but in a highly selective manner. Whichever path high profile clients decide to take, Global Fertility Concepts says that it is prepared to ensure that their wishes for complete privacy or a more open approach will be fully honored and handled with care and discretion. Beyond that, the agency offers a variety of special services to its VIP clients, including 24 hour support, personal assistants, and security services.
Global Fertility Concepts says that, at the same time, intended parents come from all walks of life, live all over the world, and most are far from household names. The agency notes that all of its clients are provided with the same outstanding level of care, personal service, and compassion as they are helped through the process of selecting a surrogate and ensuring that the process occurs in a secure, safe, and smooth fashion, with the level of privacy always being at the sole discretion of the intended parents. The firm concludes by noting that all kinds of individuals can have access to the ability to experience the joy and personal fulfillment of parenthood, and that it is here to facilitate the process in every way.
Readers who would like to learn more about gestational surrogacy – either from the point of intended parents or as gestational surrogates – are encouraged to contact Global Fertility Concepts at 800-893-1309 or visit the agency online at Globalfertilityconcepts.com.