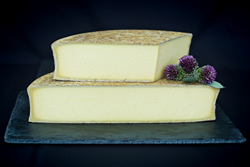 "We wouldn't have won this 'Best of Show' award tonight without everyone on our team, from the dairy farms and cheesemakers, to our affineurs and the artisan cheese community."
DENVER, Colo. (PRWEB) July 31, 2017
'Tarentaise Reserve' from Spring Brook Farm Cheese/Farms for City Kids Foundation in Vermont was named "Best of Show" among 2,024 entries at the American Cheese Society's 2017 Judging & Competition. The results were announced here in a ceremony today at the 34th Annual ACS Conference: 'Cheese with Altitude'. Second place Best of Show went to 'St. Malachi' from The Farm at Doe Run in Pennsylvania. Third place Best of Show was awarded to 'Harbison' from Cellars at Jasper Hill in Vermont.
"We wouldn't have won this 'Best of Show' award tonight without everyone on our team, from the dairy farms and cheesemakers, to our affineurs and the artisan cheese community," said Jeremy Stephenson, Cheese Program Director for Spring Brook Farm Cheese/Farms for City Kids Foundation. "How much more honored could we possibly be?"
This year's American Cheese Society (ACS) Judging & Competition broke all records for the professionally judged contest with 2,024 entries of cheeses and cultured dairy products from 281 companies, a 10 percent growth over the prior year. Competing companies represented 36 U.S. states, four Canadian provinces, Mexico, and Colombia. ACS awarded a total of 410 ribbons: 111 first place ribbons, 142 second place ribbons and 157 third place ribbons.
"Artisan cheese is clearly on a growth curve in both quality and diversity. We are thrilled by the record number of entries in this year's ACS competition. It is a testament to the creativity and vitality of artisan cheesemakers," said Nora Weiser, ACS executive director.
"Winners receive recognition for their hard work and craftsmanship, and consumers get a preview of what to look for at their local grocers or specialty cheese shops in the coming year," said Weiser.
For a printable list of this year's winners and judges' bios, visit http://www.cheesejudging.org. The 2017 ACS Judging & Competition media kit gives a complete breakdown of awards by product, dairy location and milk source, as well as producers' contact information.
The 35th Annual ACS Conference & Competition will take place July 25-28, 2018 in Pittsburgh, Pennsylvania.