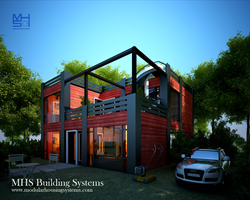 Modern, Sustainable and Modular
Irvine, CA (PRWEB) August 02, 2017
MHS Building Systems Group is pleased to announce that MHS prefabricated technology has been granted with a general approval of MHS Structural Aluminum Framing and Structural Insulated Sandwich Panel (SIP) assembly in buildings of Type V construction.
MHS Structural Insulated Panel Frame Assembly consists of prefabricated MHS Modular aluminum frame extrusions in conjunction with structural insulated panels (SIP) with EPS foam plastic core material.
All structural insulated panel (SIP) with EPS foam cores to be used with the MHS aluminum frames shall have a valid LARR, ICC or IAPMO listing number.
The aluminum frame is made of MHS aluminum extrusion 170-4W with a base material of 6061-T6 per ASTM B-221. The structural insulated panels consist of oriented strand board (OSB) laminated with structural adhesives. (AC05).
RESEARCH REPORT: RR 25703 (CSI # 06 12 00)
The report is in compliance with 2017 Los Angeles Building Code.
MHS-SIP FRAME ASSEMBLY
http://netinfo.ladbs.org/rreports.nsf/41eed0dac71af7748825692d004f0e38/4e52ce317f829dba882581620078ed4f?OpenDocument
The unique structural Methodology of Modular Housing System (MHS) is to maximize the Built Environment with cutting edge Structural Aluminum Technology.
These structures are assembled on site, using our exclusive patented Modular Aluminum Extrusion and its interlocking connectors system, in conjunction with SIP panels. Flameproof Structural Insulated Panels (FSIP).
MHS Prefabricated Building Systems is easily mounted dismounted, moved location to location, from temporary to permanent creating quality sustainable buildings of any size from residential to multifunctional. MHS Buildings are of superior quality to those constructed by conventional means. The easy to learn, teach, design and construct approach provides truly waste-free modular structures. Structure weigh only one third of I-beam steel structures and one fifteenth of concrete structures, resulting in reduced total building weight, energy and seismic loads thus saving time, space and resources.
The MHS Building Systems allows Modular Manufacturers, Building Developers, Contractors, Engineers, Designers, Architects and Students to build from Simple Studios, Mobile, Camping, Vacation Homes to highly Customized Housing and Commercial Structures up to 5 Stories.
For more information on MHS and its products please visit: http://www.modularhousingsystems.com
CONTACT:
Tim Siahatgar, Inventor
Engineering Department:
MHS Building Systems Group
PO Box 51478, Irvine CA, 92619, USA
International Voice, +1-877-880-5979,
+ 949 7357392 USA
Telegram:@mhsprefab
Telegram:@prefab
Twitter:@mhsprefab
ussystems(at)aol.com
http://www.modularhousingsystems.com