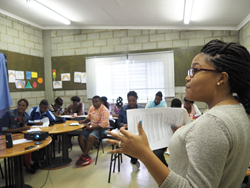 Free legal advice for South Africa Women as part of socialpreneurship.
New York (PRWEB) August 27, 2017
Socialpreneurship activist Tey Por Yee demonstrated social support to "Lawyers against Abuse" which provides free legal services and psycho-social support to victims of sexual and domestic violence, as part of socialpreneurship social responsible program.
Many women lack meaningful access to legal relief and often suffer secondary trauma when seeking justice through the police and court.
The "Lawyers against Abuse" program is carried out in one of South Africa's most disadvantaged communities. Diepsloot, an informal settlement north of Johannesburg, is home to over 500,000 people, yet there is only limited social work in the community. Lawyers against Abuse also works closely with local police and courts to ensure victims of gender-based violence are treated with dignity and respect when seeking justice.
The program assists clients in obtaining protection orders, provides support in criminal cases of rape and assault, and ensures the police and courts are responsive to victims' needs. LvA also provides individual and group psycho-therapy, works in schools with teachers and students around sexual violence, and facilitates community workshops to empower women and girls.
Tey Por Yee (Larry) is a venture capitalist investing in businesses with socially responsible business initiatives. Gomif Partners, co-led by Larry, shows the tech-savvy start-ups on Johannesburg Cyber Workshop, how easy to contribute to society by using the Internet, besides making a profit from the business.
Gomif will pick up an equity stake in qualified startups as part of the program. Interested candidates can visit http://www.gomif.com and submit business plans online. The Accelerator17 2.0 program started on 17 July 2017 and targets to ends on 18 December 2017.
About Gomif Partners
Gomif Partners (GP) is an early stage investment network joint lead by socialpreneur Larry Tey Por Yee and several private venture partners. GP's investors invest in and work with information technology companies at any stage but they are primarily focused on seed and early stage investments. GP is interested in socially responsible business models, especially renewable, retail, manufacturing, software, and services surrounding this concept. Visit http://www.gomif.com