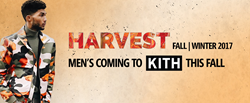 New York, NY (PRWEB) August 02, 2017
The ARTISTIX Fashion fall collection—a unique hybrid of modern urban and classic American style—is officially set to retail at the New York based clothing store and brand, KITH, starting September 1st. Uplifted by the symbolism of summer morphing into fall, artist Greg Polisseni created the painting Harvest inspiring the collection comprised of 32 innovative pieces.
At the ARTISTIX NYFW Fall show, the military themed style paired with streamlined reflective mesh details captivated the attention of the entire audience, which included Tommy Hilfiger, Marky Ramone, and various global editors.
"ARTISTIX is extremely excited and honored to be placed in the Kith stores," said Greg Polisseni, the founder, and owner of the brand. "Kith is at the top of the streetwear industry, making it a perfect match for our cutting edge style," continued Andy Hilfiger, the brand's Creative Director.
KITH is set to carry the collections notable items—including the classic Camo Bomber Jacket, the Fire Dept. Zip-Up Hoodie, and the Fire Dept. Sweater. The striking yet casual attire of the collection attracts the style-minded KITH client.
Shop the collection at kith.com and artistixfashion.com available September 1st. For additional information on ARTISTIX and the collection, visit https://artistixfashion.com/harvest-fw17/. To visit the ARTISTIX showroom or request samples, contact Giana Elenterio at gelenterio(at)artistixfashion(dot)com.
To view our look book click here
About ARTISTIX Fashion:
ARTISTIX Fashion is a unique clothing line founded by artist and designer, Greg Polisseni. The clothing line began as a way for him to express his art and designs in a new form. The goal of the brand is to create fun, edgy, and distinctive clothing to complement your personal style. With the help of Creative Director, Andy Hilfiger, the brand has merged art, music, and fashion.
About Greg Polisseni:
Greg Polisseni is an artist, fashion designer, and philanthropist. Greg has found passion in his artwork since childhood and is constantly creating original paintings, which serve as the inspiration for his fashion lines. Artistix has become a way for him to express his art, design, and creativity not only on a canvas but on clothing as well.
About Andy Hilfiger:
Andy Hilfiger started off selling brother Tommy's Jeans at 12 years old and rose to VP of Marketing for Tommy Hilfiger and VP of Tommy Jeans. Andy's latest venture, Star Branding, successfully launched the J-Lo, Nikki Minaj and Adam Levine brands. Andy now joins the ARTISTIX team and brings his over 35 years of fashion experience to guide the brand to the next level.
###