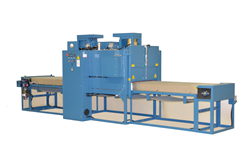 New Columbia, PA (PRWEB) August 01, 2017
Thermal Product Solutions, a global manufacturer of thermal-processing equipment, announced the shipment of a Gruenberg Indexing Conveyor Oven to an air purifying systems manufacturer.
The maximum temperature rating of this oven is 450°F and the work chamber dimensions are 34" W x 66" D x 16" H. The system consists of an oven module and a 30" wide, 18' long conveyor.
This oven will be replacing the customer's current Blue M oven. It will provide an automated batch process. The design for the system is for index positions within the oven chamber. A set loading position is determined by physical stops that will allows the customer's product to be placed in the same position each time to alleviate possible vertical lift door crashes. Five products are loaded on the load conveyor, indexed into the chamber, soaked for 15 to 40 minutes, and indexed out.
"At Thermal Product Solutions, we strive to find the best solutions for our customers. To create an even more efficient process, this batch oven has an automating batch process with conveyor." – Ted Ford, Sales Representative
Unique features of this Gruenberg Conveyor oven include:

Vertical Lift Doors to minimize heat loss from chamber and maximize uniformity
Indexing conveyor belt
Access Door for cleaning
Horizontal Airflow
MERV 4 filters in recirculation airflow to stop dust from product getting into conditioning plenum
Uniformity of +/- 3.6ºF, at a test temperature of 295ºF
About Gruenberg
Gruenberg, a division of Thermal Product Solutions, LLC, is recognized as a leader in the design and manufacture of a comprehensive line of standard and custom industrial batch and conveyor ovens that accommodate temperatures up to 1200⁰F. Gruenberg products are known for their durability, innovation, and superior performance. Additional products offered by Gruenberg include custom pharmaceutical ovens, depyrogenation ovens, granulation dryers, pharmaceutical sterilizers, and lab animal science sterilizers.
About TPS
Thermal Product Solutions ("TPS"), is a leading American manufacturer of industrial ovens, furnaces, pharmaceutical sterilizers, and environmental temperature cycling and stability test chambers. TPS is a global leader in thermal processing products and test solutions with brands including Baker Furnace, Blue M, Gruenberg, Tenney, Lindberg, Lunaire, MPH, and Wisconsin Oven. For more information on equipment solutions from TPS visit the website at http://www.thermalproductsolutions.com. #118990