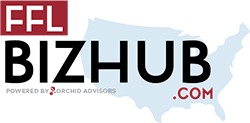 "Available on desktop, laptop or mobile phones, it's the modern software service platform that the firearms industry has been waiting for."
Hartford, CT (PRWEB) August 08, 2017
FFLBizHub.com is a breakthrough, modern software application to launch, manage and grow Federal Firearms Licensees (FFL) and Special Occupational Tax (SOT) holders. Starting as low as $1.50 per day, firearm business owners now have access to Inventory Management Software, Product Training, Business Applications, Licensing Tools, ATF Compliance Software, and Industry Networking Tools. FFLBizHub.com is powered by Orchid Advisors and developed in conjunction with the four leading industry associations.
"NSSF is pleased to support this program to further help FFLs utilize the latest technology to drive compliance and operational excellence." Patrick Shay, Director of Retailer Services, National Shooting Sports Foundation
"In our industry, the burden of managing inventory, compliance and staying current with regulations can seem overwhelming. FFLBizHub.com helps FFLs and SOTs run their operations more efficiently, freeing up resources to focus on growth. We are proud to be one of the leading industry associations involved, because of the value it will provide to our members." Knox Williams, President & Executive Director, American Suppressor Association
"FFLBizHub.com revolutionizes how FFLs track and manage inventory, record ATF transactions and train personnel. We are proud to be a partner and encourage the industry to grow profitable and compliant FFLs with these tools." Elizabeth Bush, Managing Director, NRA Recreational Programs and Ranges
"NASGW is proud to continue its partnership with Orchid and join together with other industry groups to grow and expand offerings for compliance and other important business services. The Orchid Advisors-NASGW Firearms Research Application, along with all the other tools in the FFLBizHub.com suite of offerings, should make life a lot easier for many firearms business owners." Kenyon Gleason, President, National Association of Sporting Goods Wholesalers
FFLBizHub.com can be purchased at a discounted rate through the association websites or directly from FFLBizHub.com. Members can choose from four service levels that provide the following 24x7 online services:
Firearm Inventory Management Software
Barcoding and Handling Units; Inventory Management Software; and Physical Security Guidance
Licensing Tools and Regulatory Compliance Service
FFL/SOT Launch Service; Federal ATF Updates; State Firearm Logic; and ATF, Import and Export Videos
Compliance Software
Electronic A&D Bound Books; ATF ePDFs and eForms; Online Policy Portal; and ATF Self-Inspection Services
Product Training and Business Applications
Handgun, Long Gun, NFA Videos; National Pricing Trends; and eCommerce and Auction Site Access
Industry Networking Tools
Software and Hardware Company Listings and FFLBizHub.com Member Only Meetings
"Partnered with the leading industry associations, Epicor Software and the team at GunBroker.com, we've designed an application to transform how FFLs and SOTs manage key aspects of their regulated firearm business. We've consolidated and modernized many of the industry's manual service offerings into a central software application. Our goal is to foster compliant and profitable growth while reducing overhead, legal and operating costs," says Jon Rydberg, CEO of Orchid Advisors.
###
More information about Orchid Advisors, FFLBizHub.com, its partners and associations can be found on their respective websites: orchidadvisors.com, fflbizhub.com, nssf.org, nasgw.org, nraba.org, epicor.com, gunbroker.com, and americansuppressorassociation.com.