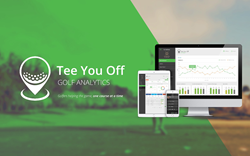 Golfers helping the game, one course at a time.
Montreal, Quebec (PRWEB) August 01, 2017
Tee You Off Solutions is a start-up located in Montreal, QC with a passion for golf and software. The company's applications are built to create a community between golfers and golf courses, that work together to help grow the game and enhance the experience. Tee You Off made headlines, winning the award for "Inventor Spotlight: Best Marketing" at the 2016 PGA Merchandise Show in Orlando and spoke with representatives from TSN, RDS, and NBC about the solution.
"We're thrilled to be bringing our new service to all Golfers and Golf courses, I'm extremely proud of our application and our team's passion and dedication to making Tee You Off world class," says Founder and President of Tee You Off Solutions, Jonathan Marcanio.
"The Feedback from our clients has been phenomenal, every Golf course we've shown Tee You Off have all told us that our application will help them improve their guest experience and help them interact effectively with more tech friendly users," say Co-Founder and VP of Sales, Jason Cianci.
The solution is made up of of a FREE mobile app for golfers and a back-end management platform for golf courses. The two mobile applications are available on both the App Store and Google Play Store. With the mobile applications, golfers can search for golf courses from around the world and see ratings, comments, and other information. Golfers can also rate their experiences, add courses to their favorites, and track their ratings. Furthermore, they can interact with other golfers and golf course operators via each course's unique social forum. Finally, golfers will have access to tailored promotions sent to them directly from the golf course and be able to compete for awards and achievements.
Golf courses can access their data through a robust analytic dashboards, where they can see golfer profiles, performance trends, industry insights, and much more. They also have their very own community management forum where they can interact with golfers, respond to questions, communicate events, and announce notifications. They have their very own marketing campaign management platform where they can create marketing lists and push tailored promotions directly to the golfers' smartphone. Finally, they have access to reports on their promotions and campaigns in order to track their performance, expenses, and other key metrics.
To learn more about the solution, we invite you to visit Tee You Off's Website (http://teeyouoff.com/).