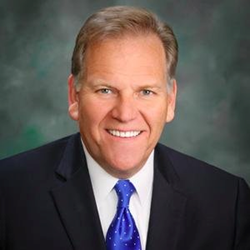 CyberSponse has one of the most impressive and passionate leadership teams for cybersecurity that I've ever met.
Arlington, VA (PRWEB) July 31, 2017
CyberSponse, Inc. The global leader in Security Orchestration Automation & Response is pleased to announce the addition of former U.S. Representative for Michigan's 8th Congressional District and former Chairman of the House Permanent Select Committee on Intelligence, Mike Rogers to the Board of Directors. As committee Chairman, Mr. Rogers was responsible for implementation of a 70 billion dollar budget and oversight of the United States Intelligence Community. Professionally, Chairman Rogers also worked as a Special Agent with the Federal Bureau of Investigation from its Chicago Field Office, specializing in organized crime and public corruption from 1989–1994. He is also a member of the Society of Former Special Agents of the Federal Bureau of Investigation. Chairman Rogers is extremely passionate about the drive, focus and determination of the CyberSponse team; he will be working closely with CyberSponse management to support the team's execution strategy, fundraising efforts and their global customer footprint.
"Chairman Rogers has been one of the most trusted and respected individuals within the information security industry for well over two decades. 2017 continues to be a very exciting year for CyberSponse, and we are honored to have an executive leader of Mike's expertise, influence, knowledge & experience join the CyberSponse family. The addition of Chairman Rogers validates the confidence that key leaders in the market have in CyberSponse, it's team and it's technology," said Larry Johnson, CEO of CyberSponse.
"CyberSponse has one of the most impressive and passionate leadership teams for cybersecurity that I've ever met. Their drive, focus and true grit led them to build a best-in-class technology offering, allowing organizations to optimize their security efforts, processes and response times. I'm honored to join their team," expressed Rogers.
"It's been an incredible opportunity to be surrounded by such the honorable, intelligent and professional leaders that CyberSponse has put together. I am honored to have the support and confidence of Chairman Rogers and excited to what our team will do together," said Joseph Loomis, CTO & Founder of CyberSponse. "Chairman Rogers is one of the most remarkable influencers of cybersecurity and I look forward to what we will do together," expressed Loomis.
About CyberSponse
CyberSponse Inc, a global leader in cybersecurity automation & orchestration, simplifies organization's processes and helps security operations teams and incident responders move effectively and efficiently through the incident response lifecycle. The CyberSponse platform enables organizations to seamlessly integrate, automate and playbook their security tools, enabling better, faster and more effective security operations. For more information, visit http://www.CyberSponse.com