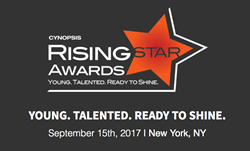 New York, NY (PRWEB) August 01, 2017
Cynopsis Media announced the honorees of its 3rd Annual Rising Star Awards, celebrating young professionals whose smarts, ingenuity, and drive are an inspiration in the workplace. This must-attend networking reception will recognize professionals bound to serve as their generation's leaders.
"The level of accomplishment in this year's group was exceptional," says Robbie Caploe, Publisher of Cynopsis. "They truly do the industry proud. And it's not just the individuals we are celebrating, but the companies that are encouraging and empowering employees to innovate and grow."
The 2017 Rising Stars represent media companies spanning the breadth of the industry including ABC, Boingo Wireless, Discovery, E! Entertainment, EPIX, Horizon Media, Litton Entertainment, Mediacom, NBCUniversal, NY Red Bulls, Maxus Global, Nickelodeon, Netflix, Nielsen, one2one Media, Smithsonian Channel, Turner, Univision, Viacom Velocity, Zenith and more. Click here to view the full list of winners and event information.
Honorees will be celebrated at an upscale awards reception on Friday, September 15, 2017 in NYC and profiled on cynopsis.com. For registration questions, contact Cathy Pearson at cathyp@cynopsis.com. For sponsorship information or to place a congratulatory ad in the reception program, contact VP of Sales & Marketing Mike Farina at mike@cynopsis.com.
About Cynopsis Media:
Cynopsis is what the TV industry reads first every day. The Cynopsis family of products includes the media industry's most-read daily, Cynopsis, plus sister dailies Cynopsis Digital and Cynopsis Sports, the Cynopsis Jobs board and special reports. Serving TV, agency and brand professionals, Cynopsis Media produces conferences, webinars, and awards programs that are second to none. Find out more at cynopsis.com.