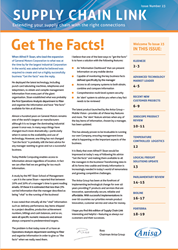 This implementation of OBS Logistics' CALIDUS WMS will involve features such as RF scanning, put away, stock taking and picking loading, allowing Kleeneze a software solution they are able to grow their business with.
London (PRWEB UK) 1 August 2017
Today, OBS Logistics have published their bi-annual newsletter, Supply Chain Link issue 23, where they have announced a new contract with Kleeneze.
Kleeneze engaged with OBS Logistics when looking for a warehouse management solution for a planned new warehouse.
Kleeneze said "We considered lots of WMS solutions, from very small companies through to large providers" but chose OBS logistics based on its long experience in WMS systems and positive feedback from the market.
After receiving an investment from Greater Manchester Combined Authority, Kleeneze were able to open a new warehousing and distribution centre in Heywood. This investment and new warehouse will help create 100 new jobs in Greater Manchester.
"The [CALIDUS] WMS has an important part to play in this new operation and OBS Logistics was confident in being able to deliver a solution quickly as the company has done for other clients many times in the past"
To read the full article in OBS Logistics' Supply Chain Link, click here
For more information contact:
Alexandra Jeffert, Marketing Executive, OBS Logistics.
Alexandra.Jeffert(at)anisagroup(dot)com
Tel: 02078812561