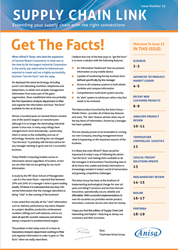 Bioline have said "Throughout the long term partnership with In2grate we have been able to rely on them to support us in rolling out our systems solutions across our global business and it continues to deliver real benefits."
London (PRWEB UK) 1 August 2017
In their bi-annual newsletter Supply Chain Link, In2grate have announced the contract with Bioline as part of Bioline's global evolution.
In2grate have supported worldwide implementations of Infor XA for Bioline in Australia, Boston USA, Singapore and recently Germany. In2grate were awarded the contract to undertake the implementation after Meridian Biosciences acquired Bioline which is UK based. The success of this implementation has led to further contracts to assist Bioline with their evolution across the world.
Alan White, In2grate's Business Unit Manager for Infor says "…we are fortunate that many of our clients are global businesses and when you do a good job for them at the first locations, they tend to involve us throughout their roll out – as a Group we go live somewhere in the world most weeks of the year."
In2grate are also currently working on an implementation within one of Bioline's European facilities which will be completed later this year, using the In2grate Rapid Implementation Methodology. Alan White explains that when implementing a new system, our clients expect there to be minimal impact on the business site and that it is always important that it is used in the same way across their business and to a consistent standard.
To read the full article in In2grate's Supply Chain Link, click here.
End
31/07/17
For more information contact:
Alexandra Jeffert, Marketing Executive, In2Grate Business Solutions.
Alexandra.jeffert(at)anisagroup(dot)com
Tel: 02078812561