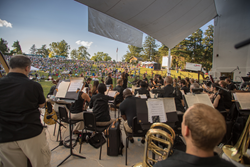 "The KSO started offering participatory and relevant programming with its first aerobics class in 1993, and its first Beethoven 5k in 1997." — James Cassidy, KSO Music Director
Covington, KY (PRWEB) August 01, 2017
The Kentucky Symphony Orchestra brings its symphonic fitness / participation program to Devou Park for Covington's Healthy Outdoor Weekend on August 5. It is a double feature — 5k run and boot camp workout — for those so inclined, and simply a concert for the curious observer and those who choose to recline. Everyone, including kids, will know these popular classics (See playlist attached). KSO Music Director and founder James Cassidy stated, "The KSO started offering participatory and relevant programming with its first aerobics class in 1993, and its first Beethoven 5k in 1997."
Both serious and recreational runners will want to register for the Beethoven 5k Run that opens this unique concert. The race will start with the famous opening four note motif (da da da Dum) of Beethoven's 5th Symphony. The trick is to beat Beethoven and the KSO back to the band shell before the final note. Runners in this certified, timed race will receive T-shirts and awards, and can hear the symphony throughout the course via streaming on Facebook Live. Register at http://www.sprunning.com or http://www.kyso.org The Fifth Symphony will clock in around 29 minutes. The route can be found at kyso.org.
For non-runners, who keep fit via a regimented workout, the KSO will test everyone's metal in a bootcamp style workout dubbed "Sweatin' to the Symphony." Area fitness coordinator Bryen Pinkard promises "a high intensity interval training with elements of circuit training, plyometrics, vinyasa, power flow yoga, and core training." The KSO accompanies its "Sweatin to the Symphony" workout live with a non-stop, 50-minute grouping of 17 well-known classics by Bizet, Mozart, Tchaikovsky, Rossini, Brahms and many more. (It's really a workout for the first violins!)
Join Music Director, James Cassidy and the KSO with area fitness pros at the amphitheater in Devou Park, Saturday, August 5 at 7:30 p.m. Wear your running and workout duds and bring blankets or lawn chairs. Plan your own healthy picnic or visit the KSO concession kiosk. For this program the TANK Park & Ride Shuttle runs from Notre Dame Academy (across the street from Covington Catholic High School via Hilton Dr. at the light) to the band shell from 6:00 -7:30 p.m., and after the concert for $1 each way. For more information (5k run registration) and directions, visit the KSO at http://www.kyso.org or call (859) 431-6216. Free concert admission and parking, though a $5 donation is suggested.
About the KSO:
For 25 years The Kentucky Symphony Orchestra has taken the "phony" out of symphony via live thematic concerts that culturally enrich, educate and entertain the residents of Northern Kentucky and Greater Cincinnati. The KSO performs throughout Northern Kentucky with three series of concerts.