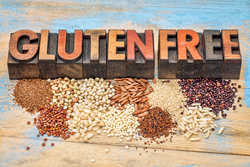 Dining out is hard when you follow a special diet. We pride ourselves on being able to accommodate a variety of special eating plans with delicious options.
Charlottesville, Virginia (PRWEB) August 01, 2017
Threepenny Cafe, a Farm to Table restaurant in Charlottesville, Virginia, will be offering a series of Chef's Tasting Dinner Menus specifically designed to accommodate those diners who are following specialized eating plans. From August 2 - August 5 the restaurant will offer a Gluten Free Chef's Tasting Menu with a Vegan Chef's Tasting Menu available August 9 -12 and a Paleo Chef's Tasting Menu offered August 16 - 19.
"We are seeing more and more guests who have decided to follow specific diets, whether as a result of food allergies or intolerances, chronic diseases or simply to pursue better health," said owner Merope Pavlides. "What these diners tell us is that it's very difficult to find creative and delicious options when dining out. Since we already serve "clean" Farm to Table Cuisine, offering specialized Chef's Tasting Menus seems like a fun way to showcase how we can accommodate a variety of dietary needs."
For Pavlides, the intersection of good food and good health is extremely important. A former special educator, Pavlides has several family members experiencing chronic disease and immune system dysfunction. "Americans dine out a great deal," she said, "We shouldn't have to sacrifice our health to do so." Threepenny Cafe serves only local pastured meat and sustainable seafood, as well as local and organic produce, grains, and dairy.
For Executive Chef Jeff Deloff, creating special Chef's Tasting Menus is not that different from what he does every day. Trained at the Culinary Institute of America, Deloff bases his menus in seasonality, biodiversity and working closely with local farmers and producers. "I think every chef's goal is to produce good food by finding the best ingredients possible," states Deloff. "I think we have gotten away from that idea. The demand for for cheaper, faster food has had an impact on the production of food. The simpler the product is treated, the better the outcome. So taking care of where food comes from--how it's raised and sourced--has more of an impact on the taste than what you do to it."
Each of the Special Chef's Tasting Menus will consist of a fixed price four-course menu utilizing local, organic, and sustainable products. They will be offered at dinner only, with wine pairings available. Threepenny Cafe's regular dinner menu will be available as well. Reservations can be made through Open Table or by calling 434-995-5277.
Threepenny Cafe is located at 420 West Main Street near downtown Charlottesville. The entire restaurant is peanut-free. Free parking is available.