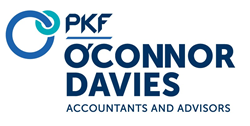 New York, NY (PRWEB) August 01, 2017
PKF O'Connor Davies, LLP, the nation's 28th largest accounting and advisory firm, announced today that its Managing Partner Kevin Keane, and his wife Eileen, served as the Honorary Chairs for the 13th annual St. Christopher's Inn Board of Directors Dinner that took place recently at Gotham Hall in Midtown Manhattan. The event, which helps St. Christopher's Inn raise awareness and funds to further its mission, recognized Chairman, President and CEO of PCSB Bank Joseph D. Roberto and award-winning journalist and author Elizabeth Vargas for their ongoing support and contributions. It is one of many important charitable causes that the Keanes and PKF O'Connor Davies lend support to in the area.
"St. Christopher's Inn is an amazing organization doing important work that is really making an impact on people's lives in our community," said Kevin J. Keane, Managing Partner of PKF O'Connor Davies. "I'm so proud to be associated with this organization and I'm thrilled with the turnout for the event and the awareness it created. We honored some truly deserving individuals and we helped further the mission and reach of St. Christopher's Inn. The firm and I will continue to support important organizations like this in any way that we can."
St. Christopher's Inn is a temporary homeless shelter dedicated to the rehabilitation of men in crisis whom they call "Brothers Christopher." The organization's mission is to offer a continuum of quality health care services that facilitate physical, emotional, and spiritual healing by providing Chemical Dependency Treatment, Primary Health Care, and Temporary housing.
Along with Keane, fellow PKF O'Connor Davies partner Matthew McCrosson also served on the Dinner Committee for the event. For more details on the event or the organization visit http://stchristophersinn-graymoor.org.
About PKF O'Connor Davies, LLP
PKF O'Connor Davies, LLP is a full service Certified Public Accounting and advisory firm with a long history of serving clients both domestically and internationally. With roots tracing to 1891, nine offices in New York, New Jersey, Connecticut and Maryland, and more than 600 professionals, led by over 100 partners, the Firm provides a complete range of accounting, auditing, tax and management advisory services.
PKF O'Connor Davies is ranked number 28 in Accounting Today's 2017 "Top 100 Firms" list and the Firm is also recognized as a "Leader in Audit and Accounting," a "Pacesetter in Growth" and one of the "Top Firms in the Mid-Atlantic." PKF O'Connor Davies is ranked number 29 in INSIDE Public Accounting's 2015 "Top 100 Firms" list and recognized as one of the "Top Ten Fastest-Growing Firms." In 2016, PKF O'Connor Davies was named one of Vault's Accounting 50, a ranking of the 50 best accounting employers to work for in North America, and ranked among the top 50 most prestigious accounting firms in America in a complementary Vault survey. The Firm is the 11th largest accounting firm in the New York Metropolitan area, according to Crain's New York Business, and was named the 10th top accounting firm in New Jersey according to NJBiz's 2016 rankings.
By consistently delivering proactive, thorough and efficient service, PKF O'Connor Davies has built long-lasting, valuable relationships with its clients. Partners are intimately involved in the day-to-day management of engagements, ensuring a high degree of client service and cost effectiveness. The Firm's seasoned professional staff members employ a team approach to all engagements to provide clients with the utmost quality and timely services aimed at helping them succeed. Continuity of staffing and attention to detail in all client engagements make the Firm stand out among its competitors.
PKF O'Connor Davies is the lead North American representative of the international association of PKF member firms. PKF International is a network of legally independent member firms providing accounting and business advisory services in 440 locations in 150 countries around the world. With its tradition, experience and focus on the future, PKF O'Connor Davies is ready to help clients meet today's ever-changing economic conditions and manage the growing complexities of the regulatory environment. For more information, visit http://www.PKFOD.com.