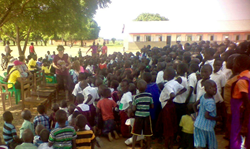 "We're proud to participate in our community's efforts to help children in need of dental care both here in North Carolina and overseas."
DURHAM, NC (PRWEB) August 01, 2017
Riccobene Associates Family Dentistry has partnered with Embrace Uganda, a Wake Forest-based charity, to deliver dental supplies to orphans in Uganda. Founded in 2007, Embrace Uganda and its Ugandan partners help provide clean water, education, and healthcare to almost 2,000 orphaned children in Kaihura, Bukerere, and Koreng, Uganda.
On Embrace Uganda's mission trips, local volunteers work side-by-side with villagers to build physical facilities, complete wells, and deliver medical supplies, clothes, books, and other donations. Their missionaries also maintain an ongoing presence and provide healthcare and education services in these communities. Riccobene Associates Family Dentistry donated 2,000 toothbrushes and toothpaste to three orphanages, each of which houses about 600 children, on one of the group's mission trips in June.
Dr. Michael Riccobene, founder and CEO, explains, "We're proud to participate in our community's efforts to help children in need of dental care both here in North Carolina and overseas." In addition to Embrace Uganda, Riccobene Associates Family Dentistry partners with national and local charities including the American Heart Association, Walk for Autism, the Special Olympics, the Shaun Draughn Charity, the Boy Scouts, the Salvation Army, and the Cary Ballet Scholarship.
Since opening its first office in 2000, Riccobene Associates has grown to fourteen locations in the Research Triangle area, including newly-opened offices in Mebane and Durham. Along the way, it has earned multiple awards from Angie's List, Cary Magazine, and Carolina's Parent. Riccobene Associates prides itself on its patient-centric care, state of the art dental technology, and commitment to ongoing education for its clinical staff.
New patients are invited to visit one of Riccobene Associates' locations if they want to experience a different kind of dentistry!
For additional information, contact:
Jeff Kovatch
Director of Marketing and Development
Riccobene Associates Family Dentistry
(973) 809-5466 Cell
jeff.kovatch(at)brushandfloss.com