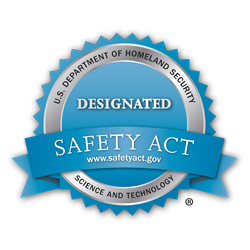 The designation serves as a testament to the quality of our training programs, innovative technologies, and industry recognized leadership to provide our clients better outcomes.
ATLANTA, Georgia (PRWEB) August 01, 2017
U.S. Security Associates (USA) is proud to announce, after an extensive examination of its service standards, screening processes, training protocols, and security technologies, it has been awarded the Department of Homeland Security (DHS) SAFETY Act designation. The SAFETY Act award demonstrates that USA is a market leader in anti-terrorism security solutions and covers USA's clients against certain damages in the event of a terrorist attack at a facility that USA serves.
In response to the devastation of the 9/11 attacks and as part of the Homeland Security Act of 2002, Congress enacted several levels of liability protection for providers of anti-terrorism technology, both products and services, and under which manned guarding is classified. The Safety Act program provides incentives for the development and deployment of anti-terrorism technologies by creating a system of "risk management" and a system of "litigation management." The purpose of the Act is to ensure that the threat of liability does not deter potential manufacturers or sellers of anti-terrorism technologies from developing, commercializing and deploying technologies that could significantly reduce risks, mitigate the effects, and ultimately, save lives in the face of large-scale terrorist events.
The SAFETY Act designation confirms U.S. Security Associates' commitment and active pursuit to provide their clients the most safe and secure environments through specific risk-mitigating security technology. Richard L. Wyckoff, President and CEO of USA, championed the attainment of the SAFETY Act for the company: "USA is very proud of this accomplishment. The designation serves as a testament to the quality of our training programs, innovative technologies, and industry recognized leadership to provide our clients better outcomes."
ABOUT U.S. SECURITY ASSOCIATES
U.S. Security Associates (USA) is the market-leading, wholly-owned, American, full-service safety and security solutions provider. With over 160 locally-responsive offices, international locations and over 50,000 dedicated professionals, they offer the most complete array of physical security, remote surveillance, and global consulting and investigations to ensure better outcomes for thousands of clients and a range of industries. Innovative applications of leading-edge, proprietary technology enable USA to rank annually among the world's best training companies, sustain the highest standards of quality, and underscore world-class customer service with unparalleled accountability. USA's rise as one of the largest innovative security solutions leaders is a natural byproduct of these differentiators and enables the company to provide the most Safe. Secure. Friendly.® environments for people, assets, and brands. For more information, visit http://www.ussecurityassociates.com.
###