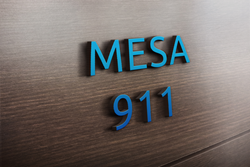 We were floored when we learned that every single company Activu called suggested us.
Phoenix, Arizona (PRWEB) August 02, 2017
It's one thing to win a request for quote (RFQ). It's something quite different to be recommended for a large-scale project. But that's what Activu, the #1 command and control integrator in North America, found when they went looking for the top audio-visual integrator in Arizona. Everywhere they asked, they were referred to Immedia Integrated Technologies.
Originally, Immedia submitted a bid for the A/V portion of a large construction project for the Mesa Fire and Medical Regional Dispatch and Emergency Operations Center, through CORE Construction, the selected CMAR for the project. Halfway through the build-out, the EOC technology was put on hold when the fire department received a grant. With more money to spend, they reached out to their consultants, HDA Architects and Winbourne Consulting, to determine how to improve the functionality of the system. As a result, one of the systems that was reviewed was Activu.
Activu specializes in visualization technology to manage change, share a common operational picture and maintain situational awareness in emergency situations, and control centers around the globe.
Activu started a search that included, top manufactures, top consultants and the best rep firms in the southwest United States to recommend the best integrator, the responses were unanimous: contact Immedia Integrated Technologies.
"We were floored when we learned that every single company Activu called suggested us," shared Matt Yenter, senior project consultant with Immedia. "We were handpicked by the best people in the world—and we weren't even aware any of these conversations were occurring.
"The project included integrating Activu software and Crestron controls across the building plus adding microphones and in-ceiling speakers to all stations, executive offices, and training rooms. Video conferencing became part of the center as well, which helps during expansive situations.
Previously, the center had been using six displays on a wall with only six feeds. Using Activu technologies, Immedia expanded to 37 displays with more than 40 sources, across multiple video walls. In addition, the content is all available via remote access, making interaction that much easier.
And this isn't just for Mesa. The emergency call center serves five jurisdictions, all of which are benefitting from their state-of-the-art technology resources. Now, the entire East Valley can more easily respond to and quickly resolve incidents and emergency situations.
About Immedia Integrated Technologies: Founded in 2004, Immedia Integrated Technologies is a full-service technology company with a focus on integrated audiovisual solutions including design, installation, automation, and digital signage. For more information, visit http://immedia-tech.com.